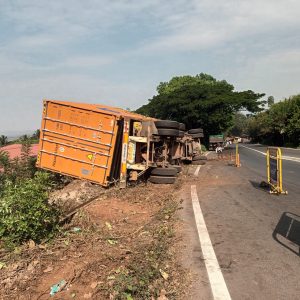 Goemkarponn Desk
PONDA: With no solution coming from government the accidents continue at Mansawada Kundaim road. Manaswada road has become death trap as traffic proceeding on sharp turns at Kundaim often loses control and fells on it side.
Today early morning at 4.30 am the truck proceeding from Manaswada after losing control dashed cashew and mango tree and later fell on its side, luckily tragedy averted as it did not fall on house and highschool located at roadside.
Locals demand Mansawada Road should be just a service road, no heavy traffic should be allowed from it. Locals demands two way traffic from Kundaim bypass road.
Kundai Sarpanch Survesh Kundaikar demanded that the one way NH traffic from Manaswada Kundaim road should be diverted on Kundaim bypass road making it a two way road.
He said Kundaim Manaswada road should be keep as service road for locals due to growing truck accidents. The other locals said due to frequent accident to heavy vehicles there is possibility that one day it may claim lives of several people at a time.
With average three to four accidents takes place at Mansawada Kundaim road the locals at Kundaim demanded to stop the NH traffic passing from Manaswada road towards Panjim and instead urged government to divert it through Kundaim bypass making it a two way road which will prevent the accidents.
Comment