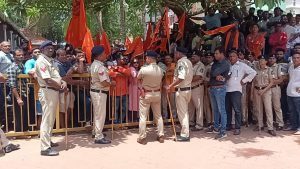 CALANGUTE VP KEEPS RESOLUTION IN ABEYANCE AFTER MASSIVE PROTEST
Thousands March To Calangute Demanding Apology and Immediate Withdrawal of Panchayat Order; Reports of Stone-pelting, car damage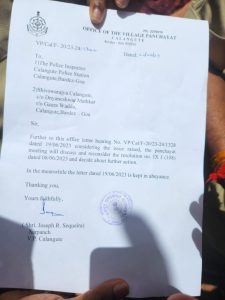 Goemkarponn desk
CALANGUTE: In a massive show of strength, the Chhatrapati Shivaji Maharaj premis, on Tuesday, launched a massive protest against the Village panchayat of Calangute order to demolish the Shivaji statue, installed a fortnight ago.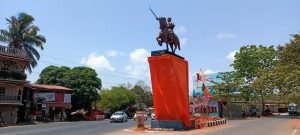 The statue was installed on June 3 at the junction near the police station.
However, in a notice issued late yesterday evening, the Calangute panchayat, led by Sarpanch Joseph Sequeira, ordered the demolition of the statue, which it said was illegal and violates the Supreme Court verdicts.
Following the notice, the Shiv premis converged this morning at Shri Shantadurga Devasthan at Calangute and marched to the Calangute Village panchayat.
As they walked, they shouted, "Jai Bhavani, Jai Shivaji".
They said that Sarpanch Joseph Sequeira was anti-Hindu and demanded an immediate apology and his resignation as sarpanch.
The Shivaji Premi stated that the decision to remove the statue was an inappropriate decision by the panchayat.
The Shiv Premis demanded to know why Sequeira was upset with Shivaji.

They even named him modern-day Salazar, the Portuguese ruler.
"Why Ronaldo's statue is there? Was he a freedom fighter?" asked Shiv premis.
Sizing the opportunity, many even said that this was the reason why Hindus must unite.
"This is not just about our leader Shivaji, they hate our religion, and that is why they do such things. It is a big conspiracy to finish our religion," said a leader.
A massive police force led by SP Nidhin Valsan, DySP Vishwesh Prabhudesai, DySP Jivba Dalvi and others was present to control the crowd.
However, the crowd continued with their demand for the sarpanch to come out and apologise, failing which they would storm the panchayat office.
There were reports of stone pelting and one Tata Nexon car being damaged in the incident.
Following the massive Revolt, The Calangute Village Panchayat decided to keep the notice and the Resolution in abeyance.
"Further to this office letter bearing No. VP/Cal/F-20/23-24/1328 dated 19/06/2023 Considering the issue raised, the panchayat meeting will discuss and reconsider Resolution no. IX J (108) dated 08/06/2023 and decide about further action. In the meanwhile, the letter dated 19/06/2023 is kept in abeyance," said the letter issued by Calangute Sarpanch Joseph Sequeira.
Calangute MLA Michael Lobo appealed to everyone to remain calm and maintain restraint.
"Calangute is a tourist place, and any kind of violence will send a wrong signal," he said.
Lobo, however, refused to take any side as of now, saying, "nothing can be achieved with violence".
"I am sure the youth will listen, and things will be sorted," he said.
Comment