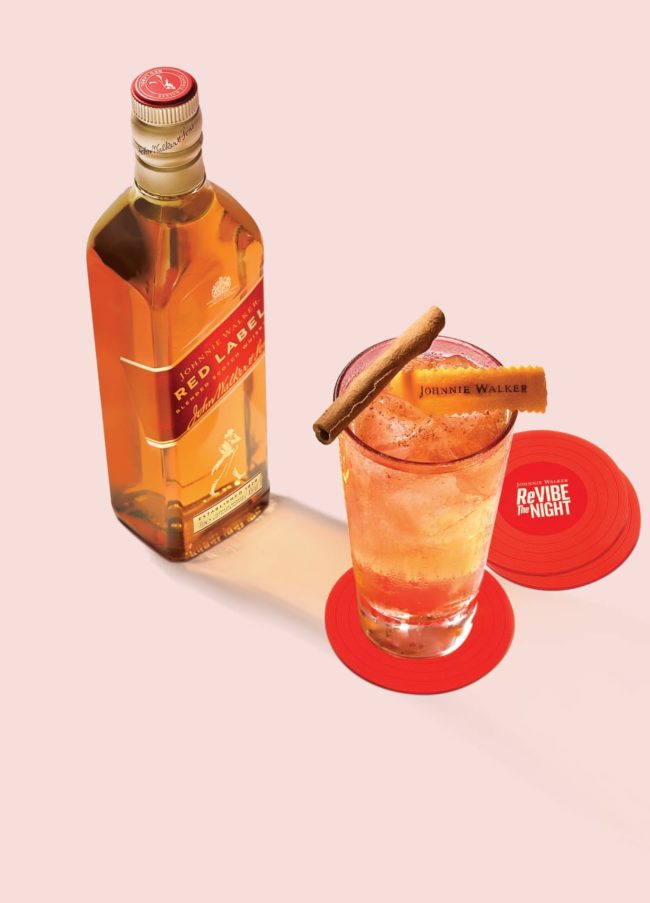 The duo has created an energizing music video to get the Indian audience grooving, through an Instagram Reel Challenge with a Johnnie Walker Twist
Link to the reel video: https://www.instagram.com/p/CVUmZ-dokAh/
India, 2021: The most trending face of Indie music, Ritviz, and internet sensation, Lisa Mishra, mix Johnnie Walker's latest signature highball kickstarting a Red and Ginger Reel Challenge.  Stirring up the latest trend on Instagram, the duo has partnered with the brand to create an upbeat track debuting Johnnie Walker's new bespoke highball serve – Red and Ginger.
Bringing this refreshing serve to the forefront, the short video showcases Lisa and Ritviz mixing the Red and Ginger Highball to the new bespoke track while doing a peppy hook step. The quick three step recipe plays into the trend of re-creation that provides a visual and audio treat for the viewers. Taking it to their Instagram, the artists have shared the detailed recipe of the concoction while calling out to their followers to post their own rendition of the hook step while recreating the bespoke Highball. Just stir up these three ingredients to build a Johnnie Walker Red and Ginger for yourself – Lots of ice, Johnnie Walker Red Label scotch whisky, topped with Ginger Ale, an orange peel, and a gentle spirits of cinnamon infusion atomizer.
Commenting on the association, Lisa Mishra said, "I'm thrilled to be collaborating with Johnnie Walker to come up with this cool Red and Ginger Reel challenge with Ritviz. Together, we've created a soundtrack that has been brought alive in the reel, showcasing the super refreshing Red and Ginger highball. We really enjoyed creating this track and hope audiences hop onto the create the reel as well!" ."
Highlighting the taste profile of the new serves, Yangdup Lama, Partner, Drinks India Company says, "A Highball for every vibe, the Red and Ginger serve by Johnnie Walker plays with different notes of spice – ginger, lemon and cinnamon, that heightens the key flavour notes of the Johnnie Walker Red Label. A refreshing citrus in the first sip followed by fresh apple and cinnamon fireworks in the second, concluded with a subtle zing of ginger. This highball serve is a remarkable way to come together and vibe in the after-hours."
Shweta Jain, Chief Business Development Officer: Luxury, Reserve & Craft – India & South Asia, Diageo India says, "Johnnie Walker has always been emotionally resonant with the contemporary culture & sentiment. In uncertain times like these, it is the perfect time for us to bring back our afterhours vibe and move forward. The Red & Ginger is the new bespoke serve launched by the brand that reimagines the times and all those occasions we have been missing. Curated by Yangdup Lama, our bespoke serve is a culture forward highball cocktail that will be a bar-call at all trend-leading bars across markets. Bringing together music sensations such as Ritviz and Lisa to create a soundtrack that adds a whole new dynamic to this serve is a step to bring the brand closer to the consumer and breathe back life into the after-hour culture in India."
Link to Reels challenge: https://www.instagram.com/p/CVUmZ-dokAh/
The newly launched bespoke serve is created by Yangdup Lama, with the recipe mentioned below:
Johnnie Walker Red & Ginger
​INGREDIENTS: ​
50 ml Johnnie Walker Red Label
150 ml Ginger Ale
1 Pc Stamped Orange Peel                  ​
Cinnamon Infusion Atomizer              ​
RECIPE:
Ice in tall glass, add whisky, stir. Add mixer, stir. Twist the orange peel on top of the drink
Take the cinnamon infusion, spray twice (2 inches away) on top of your drink
Garnish with the orange peel & cinnamon stick
*Drink Responsibly*
About Johnnie Walker
Johnnie Walker is the world's number one Scotch Whisky brand1 (IWSR), enjoyed by people in over 180 countries around the world. Since the time of its founder, John Walker, those who blend its whiskies have pursued flavour and quality above all else.
Today's range of award-winning whiskies includes Johnnie Walker Red Label, Black Label, Double Black, Green Label, Gold Label Reserve, Aged 18 Years and Blue Label. Together they account for over 14 million cases sold annually (IWSR, 2020), making Johnnie Walker the most popular Scotch Whisky brand in the world.
About Diageo
Diageo is a global leader in beverage alcohol with an outstanding collection of brands across spirits, beer and wine categories.  These brands include Johnnie Walker, Crown Royal, J&B, Buchanan's and Windsor whiskies, Smirnoff, Cîroc and Ketel One vodkas, Captain Morgan, Baileys, Don Julio, Tanqueray and Guinness.
Diageo is a global company, and our products are sold in more than 180 countries around the world.  The company is listed on both the London Stock Exchange (DGE) and the New York Stock Exchange (DEO).
For more information about Diageo, our people, our brands, and performance, visit us at www.diageo.com.  Visit Diageo's global responsible drinking resource, www.DRINKiQ.com, for information, initiatives, and ways to share best practice.
Celebrating life, every day, everywhere.
Comment