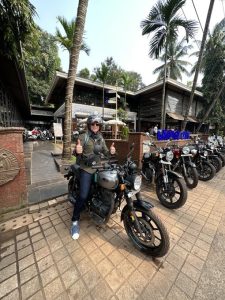 Former South African cricketer Jonty Rhodes, regarded by many as one of the greatest fielders of all time, is in India currently for the ICC Men's Cricket World Cup. The 54-year-old took to X, formerly Twitter, to share photos from his India trip as he rode a motorbike in Goa.
Rhodes shared a photo of himself after renting a Royal Enfield bike in Goa and said he is headed down south. "Great to be "rolling" independently again, mobility = freedom! Picked up @royalenfield from @garagecafegoa and headed down south, 2.5hrs, back to quiet life. Thanks @pumacricket for the other set of "wheels"!" he wrote.
In another photo, Rhodes is seen waiting in a queue to fill petrol in his bike at a fuel station. "The only time that traffic sticks to lane discipline #360degree vision needed," Rhodes said.
"If you can drive in Indian traffic, you can drive anywhere," a user commented. "Jhonty find your "diving" way to manage the traffic in India and not the "driving" way," said another. "Am sure you will take some time getting used to it Jonty; have seen the lane discipline at Capetown once, was so organized. India though, has its own ways. Stay safe!!" another person wrote. "You'll go back home as a better rider," another netizen said.
Rhodes played 52 Tests and 245 ODIs for the Proteas in a career spanning from 1992 to 2003. He scored 5,935 runs in ODIs and 2,532 runs in Tests, averaging 35 in both the formats. One of his daughters is named India while another child of his was born in India in 2017.
Comment