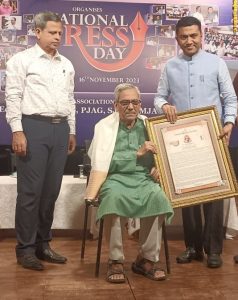 Goemkarponn desk
PANAJI: Appreciating the media's attack on government and politicians, Chief Minister Pramod Sawant today urged journalists to also write news reports about NGOs who are out to block the development and welfare of the state.
"In the interest of the state journalists should also write about the NGOs. Journalists write about government and politicians and they should continue to write," said Sawant.
Chief Minister was addressing the gathering on the occasion of the National Press Day function in the capital.
Speaking on the effect of social media, Sawant said that regulations on social media are the need of the hour.
"Regulations to social media are the need of the hour and the government of India is coming up with 13 laws for social media," said Sawant.
Sawant said that National Press DDay is a tribute to the vital role of an independent and free press, a cornerstone of India's democratic fabric.
"On this National Press Day, I honour the freedom, duties and responsibilities of the press," he added.
Sawant also wished a happy National Press Day to all the journalists across print and broadcast media who serve as the mirror reflecting the various facets of our society with integrity.
"The role of the media in giving voice to the voiceless is commendable. I send my best wishes on the occasion," he added.
Sawant further stated that a free press is the cornerstone of a vibrant democracy. The government is fully committed to upholding freedom of press and expression in all forms.
Comment