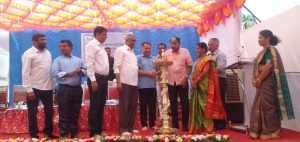 Goemkarponn desk
PONDA: Kavlem 15 MLD Sewerage Treatment Plant (STP) was inaugurated by PWD Minister Nilesh Cambral, Power Minister Sudin Dhavlikar, Agriculture Minister Ravi Naik, Kavelms Sarpanch Manuja Naik, former Sarpanch Rajesh Kavlekar, Officials of SIDCGL were present.
During the function, Minister Nilesh Cabral said the 15 MLD Kavlem STP was completed after many hurdles, and the Government desired to complete the long pending work of two other STPs for Curti and Undir.
He said roads in Ponda would be soon restored after work on underground Power cables is laid.
He said Rs 30 crore is sanctioned for Marcaim hot mix carpeting and 20 Crore for Ponda City, and the pending rest work would be done after the power cable is laid underground.
He said the STP for Ponda is a total of 538 crore projects. One 335 crores 15 MLD plant for Ponda City and Part of Kavlem is inaugurated at Kavlem with 1335 manholes and 54 km lines. There is a total of 115 lines.
The work of the Ponda Undir and Curti plants will be costing Rs 550 crore in total.
He said government projects are for the public interest and people should not oppose them, stating that they are done in their area. He appreciated the Kavlem farmers and Kapileshwar Sansthan, who sacrificed land for Project.
He said on Health grounds, every house with power and water would be provided with a sewer connection subsidised rate of Rs 5000 within one and a half years.
Light and water available sewerage will be a direct connection.
Comment