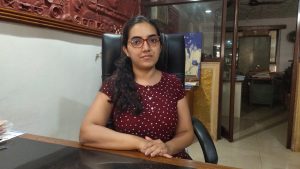 Goemkarponn desk
MAPUSA: General Secretary of the Mapusa Carnival committee Kayle Barganza resigned from the post of General Secretary of the Mapusa Carnival Committee 2023.
Braganza has submitted her resignation letter to the chairperson of the Mapusa municipal council
The Carnival festival is good one week away, but there were allegations of irregularities and corruption in the meeting to elect sub-committees in Mapusa Municipal Council. The opposition group led by councillors Shashank Narvekar and Komal D'Souza criticized the ruling councillors for indulging in high-handedness by trying to force certain individuals to dictate terms to the elected members of the carnival committee.
The opposition-backed councillors got agitated after the former joint secretary and former chairperson of the Carnival committee, Michael Carrasco, started to address the meeting to elect the sub-committees, which should have been done by councillor Kayle Braganza who is the General Secretary of the Carnival Committee.
"I have come to realise that in the last few days, my presence has caused some hindrance among the members in the smooth functioning of the activities. As a result, I have tendered my resignation in the best interest of the Mapusa carnival committee," said Braganza and extended her good wishes to the organising committee.
Comment