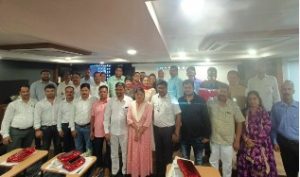 Goemkarponn desk
PANAJI: In a significant effort to enhance labour welfare and promote cooperation, the states of Goa and Chhattisgarh held a bilateral conference at office of the Commissioner Labour and Employment in Goa.
The exchange of policies and schemes between the two state Labour Welfare Boards took place on 31st July 2023 held at Model Career Centre, Office of the Labour Commissioner Government of Goa, Shram Shakti Bhavan, Patto-Panaji-Goa.
Representatives from both Goa and Chhattisgarh participated in the fruitful discussion, Disha Foundation, technical support agency for Goa State Migration Cell, and (EPIL) Engineering Project India Ltd who is appointed by the government for smooth implementation of BoCW schemes in Goa. Aiming to share best practices and initiatives for the betterment of the labour force in their respective states. The collaborative session aimed to identify successful programs that could be adapted and implemented to improve the working conditions and social security measures for labourers.
During the conference, Program Manager of Disha Foundation Vinit A Kundaikar presented on successful implementation of Goa State Migration cell and work of Disha Foundation towards the migrant workers in the state of Goa, Preetham Rodrigues from EPIL spoke about the plan of implementation on BoCW schemes in Goa, Pacheco Fernandes, Labour Welfare Officer spoke about different labour welfare schemes undertaken by Labour Welfare Board of Goa. On the other hand, Vice-Chairman of the labour welfare Board Shri. Keshav Banti Harmukh, from Chhattisgarh's delegation highlighted their efforts in promoting labour safety, awareness campaigns, and measures taken to protect the rights of marginalized workers.
Agnelo A. J Fernandes, Commissioner, Department of Labour and Employment, Goa expressed his delight in hosting this exchange, emphasizing the importance of learning from each other's experiences to uplift the labour community.
The event fostered an open dialogue, enabling both states to gain insights into the challenges faced by labourers and develop innovative solutions.
The two states agreed to maintain continuous communication and cooperation to implement the shared policies and schemes effectively.
The collaborative effort is expected to foster economic growth and create a conducive environment for the welfare of the labour force in both Goa and Chhattisgarh.
This exchange of policies and schemes marks a significant step towards strengthening the bond between the two states and promoting mutual development in the labour sector. With a shared vision of empowering workers and ensuring their well-being, Goa and Chhattisgarh are poised to set an exemplary standard for labour welfare initiatives in the country and set precedent for other States.
Comment