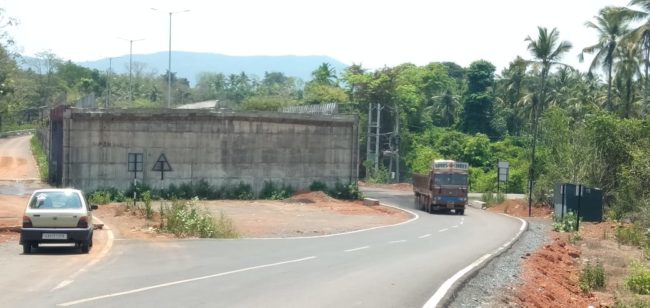 Goemkarponn desk
PONDA: Three months ago, a truck rammed into Hotel at OPA Junction, damaging the entire hotel.
Since then, parents have feared for the safety of school children's waiting for the bus at OPA Junction.
Khandepar locals PTA Members demanded an urgent Bus Shed at the dangerous OPA-Khandepar Junction.
Locals said that in the absence of buses, hundreds of students wait for buses at OPA Khandepar's busy junction by the side of NH. PTA members and Locals had demanded that Curti Khandepar Panchayat and PWD to construct a bus shed by the side of the road at OPA Khandepar Junction for the safety of students.
Social activist Sandeep Parkar said vehicles often proceed from Ponda towards Belgaum drives in neutral mode on the Khandepar slope. "In case of brake failure, there is a danger of major accidents," he said.
He said locals and parents fear for the lives of children as three months ago one loaded truck proceeding from Ponda to Khandepar slope rammed into the hotel at OPA Junction after it lost control over vehicle damaging the entire hotel, luckily students escaped on that as just before that incident students waiting for a bus near this hotel had boarded the bus and had left the place.
"Luckily, the hotel too was closed as its owner was sick and thus tragedy averted. Sandeep said around 200 students were waiting for a bus after school hours on both sides.
He further said that a woman was killed on the spot some three decades ago while her brother was seriously injured.
After which, based on the demand of local one landlord had provided his land for construction of bus shed for the safety of people, but sadly later that land was encroached by some shop owners who need to provide for bus shed.
Suraj Garad, Vice President of PTA of MIBK High School, said some factories at Khandepar even showed interest in constructing the shed provided Panchayat or PWD allot space for the construction of the shed.
He said his daughter studies in eighth beside several students who wait for buses after school hours but have no safety and stand at the roadside for the bus.
The government spent crores of rupees on the construction of the Khandepar bridge and inaugurated the incomplete bridge three years back without a ramp/approach road towards the Ponda side.
It is used as one way for traffic from Belgaum to Ponda via a service road. However, traffic towards Belgaum is diverted through old NH road at OPA Junction, where it poses a danger to the life of students in the absence of a bus shed.
Though the bridge is constructed, it is incomplete and needs to complete urgently. If a bridge ramp is constructed, the NH traffic will ply through the bridge, and the OPA Junction will become free of heavy traffic.
Comment