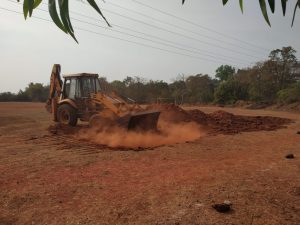 They fear walking tracks would reduce the size of the ground
Says they are not against the walking track, but it should not be on Playground.
Demand shifting walking track on open spaces of Panchayat.
Goemkarponn desk
PONDA: Marcel locals opposed digging work with the help of JCB to construct a walking track on Karay ground.
The locals stopped the contractor from digging the ground for construction work on the walking track and asked him to restore the ground stating no proper permission for work.
The youth said the contractor started digging ground without a work order, and neither the TCP nor other legal permissions were shown to them.
They alleged the work was illegal and against the gram sabha resolution.
The youths also drove away the contractor involved in digging the ground using JCB this evening, stating that the work was done against the gram sabha resolution.
They said that Sarpanch Jayesh Naik should follow the gram sabha resolution and take locals into confidence, organize a meeting with fifteen sports clubs as per Tivrem Vatgao gram sabha resolution, and any nature of development should take place only after the views of locals are considered.
Already 80 locals have signed a memorandum against the walking track.
The locals youth said if the walking track is constructed, then the size of Kare ground would be reduced.
"We play various games, including season ball cricket, tennis ball Cricket tournament, and football games beside schools from Panchayat areas also use the same ground. It is also used for coaching various games," they stated.
The Youths gathered today evening in protest against the digging of ground said it is unfortunate that despite opposition by locals and youths on Sunday, Gramsabha the Panchayat allowed the contractor to dig the ground. The Locals said the Sports Authority of Goa (SAG), with the help of a Tribal fund, is digging the Kare ground to construct Kare Ground.
The issue was hotly debated on Sunday, Gramsabha, with locals having passed a resolution that before doing the walking track, the issue should be discussed with all the sports clubs in Village Panchayats, however violating the resolution, the work began, and youths gathered stopped it.
"We need to be provided details of work, and at the construction site, a Board is displaying the nature of work, name of contractor and permissions obtained for the work," said the youth.
Comment