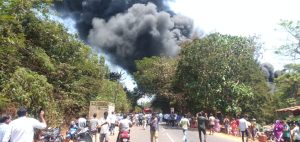 Goemkarponn desk
Ponda: A massive fire has engulfed the RK Scrapyard at Dhavali. The fire started at around 1 pm leading to traffic blockage on Dhavali-Farmagudi national highway for several hours.
The scrapyard was packed with empty plastic chemical barrels, scrap plastic, bags, paper and various other materials. The clouds of smoke were even witnessed at Mollem.
Following the incident, the fire tenders from Ponda, Margao, Kundaim and South Goa were pushed into service to douse the fire.
However, there was no access to the scrapyard, and the fire team was trying to extinguish the fire from main road.

Following the massive fire, several blasts were heard. A huge crowd gathered at Dhavali Junction.
A few days back in April, the Kavlem Panchayat inspected the RK scrapyard and others; however, they could not take action as the scrap owners had already managed to get a stay due to which illegal scrapyards flourished area.
Even kitchen equipment like LPG cylinders amidst piles of plastic, wood and other flammable material was kept at the scrap yard.
Locals say these businesses generate lakhs of rupees in income but have zero safety measures.
A team of officials from the Ponda Mamlatdar and the AK (Avval Karkun) inspection had revealed that these scrapyards are operating illegally, without the necessary certifications, including pollution certificates and panchayat.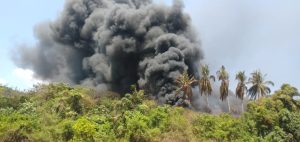 Many scrapyards turn into havens for anti-social activities at night. Without proper toilets, open defecation is rampant.
Kavlem villagers demanded that the authorities clear the nuisance from the village.
Comment