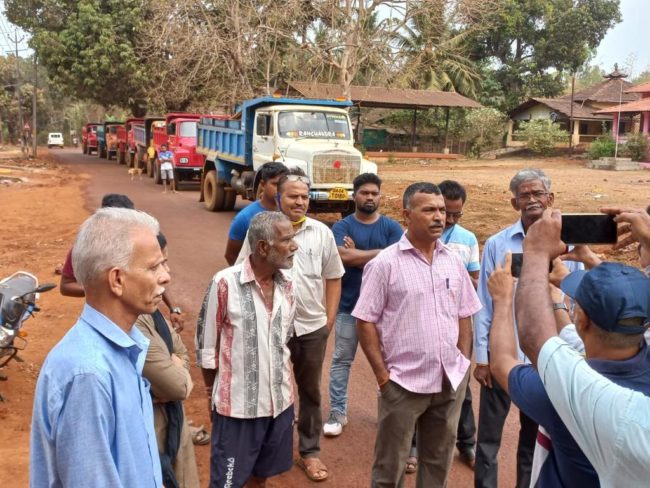 Goemkarponn desk
MAYEM: With villagers of Mayem demanding stoppage of trucks transporting ore through their village, Deputy Collector demanded that the village pass an order to stop transportation.
"The villagers cannot just block the road stopping the transportation; I urge the villager panchayat to call for an urgent meeting and pass a resolution to stop the transport; I am only speaking about the law and order situation," said Deputy Collector speaking to the villagers.
The deputy collector also urged the villagers that if they do not want the ore transportation through their village, the panchayat should get the cancellation of transportation order from the Mines Department.
The villagers claim that the trucks carrying ore are playing on the roads without the required NOC from the authorities.
They also alleged that due to the passing of truckers from thickly populated areas where roads are very narrow, and no space for other vehicles to negotiate the safe movement, the trucks cause dust and noise pollution, traffic jam, besides water pipeline has ruptured at many places and above all during emergency 108 ambulance takes 45 minutes approximately to reach the hospital which is just 4 km away from Mayem.
They alleged that they are suffering for the last two months since the model code of conduct was imposed by the Election Commission in view of the assembly election.
Comment