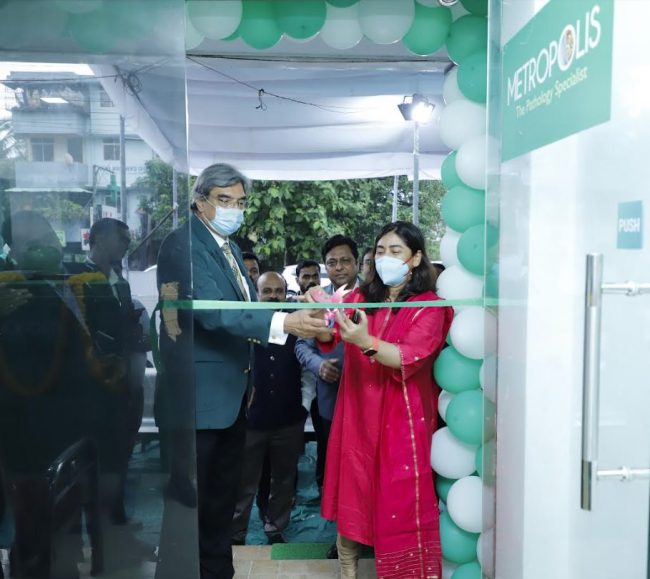 Metropolis Healthcare launches an Advanced Diagnostic Testing Centre, the 'first-of-its kind' in Margao, Goa
               Extending high-quality testing services to patients with latest & innovative diagnostic technologies.      
Metropolis Healthcare Limited, India's leading diagnostic service provider, announced the launch of an advanced diagnostic testing centre in Margao, South Goa. Spread over 800 sq. ft., the diagnostic testing centre has the capacity to conduct 500+ sample testing per day within a quick turnaround time and high-quality reports. The lab has been equipped with the state-of-the-art diagnostic technological equipments' to deliver best-in-class patient services with a team of qualified pathologists and technicians.
Inaugurating the brand-new laboratory, the Chief Guest, Dr. Sushil Shah, Founder & Chairman, Metropolis Healthcare Limited said, "We are elated to expand our services with the launch of 2nd lab in Goa. This testing centre will provide top-notch diagnostic testing and results assuring a healthier community for the future."
Dr. Pradeep Mahindrakar, Chief of Labs, South Goa, Metropolis Healthcare Ltd. said, "Metropolis Healthcare is the frontrunner in the diagnostics landscape in the country and we take pride in serving the community with our top-quality and timely reports. With the launch of the new laboratory in Goa, we look forward to taking the baton from our existing patient service collection centres, partner and work with local hospitals and clinicians and share the responsibility of providing different types of tests ranging from basic day to day pathology tests to the high-end molecular diagnostics tests at reasonable rates."
Mr. Vijender Singh, Chief Executive Officer, Metropolis Healthcare Ltd. said, "Minimal turnaround timelines, accuracy and comprehensive results are the pillars on which we build each branch of Metropolis Healthcare Ltd. across the country. Our doctors complement our investments in latest technology to bring the best of information and solutions at our patient's homes and we strive to keep the efforts going onwards and upwards."
Metropolis Healthcare Ltd. is known for their numerous quality accreditations to its credit, both in India and abroad and with decades of experience. Metropolis has conscientiously developed the Indian Reference Range for an extensive test menu, which is now being used by thousands of laboratories across the country.
The new laboratory is located at Hi Life, Shop No. 1, Near Imperial Hospital St. Joaquim Road, Borda, Madgao, Goa- 403601
Comment