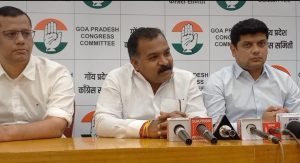 Goemkarponn Desk
PANAJI: AICC Desk Incharge of Goa Manickam Tagore today said that BJP and RSS is playing with sentiments of Goa and Karnataka on Mhadei issue.
AICC Goa Desk Incharge Manickam Tagore held a meeting today at the Congress house to assess the party's position in Goa.
Tagore also said that Chief Minister Pramod Sawant should show courage to condemn remarks of Union Home Minister Amit Shah..
"that for BJP more important is election and for Congress rights of Goa people.
"BJP and RSS are not sensitive towards Goa's right, for them what is important is to win elections. They are playing politics with Karnataka and Goa," said Tagore
He further said that Minister Pramod Sawant should show courage to condemn remarks of Amit Shah, who has taken away rights of people.
"Congress stands for Goa's welfare and will be with people. We will fight for the rights of the people," he said.
Tagore said that Congress had never created rifts between states and that they had always dealt with such issues on an emotional level.
"BJP is doing this to increase their seats in Karnataka during Lok Sabha election. They are in a panic situation, because they are losing seats there," he said.
The AICC Leader also said that Congress is making all preparations to come back to Goa in its original shape and we are rebuilding our organisation. We want to win the hearts of people by winning both seats of Goa in the Lok Sabha election in 2024," he said.
"Party should not give too much importance to leaders who join from the BJP or new members who enter the party," he added
Tagore said that the Congress needs a little more time to rebuild and restore the organisation in Goa.
Comment