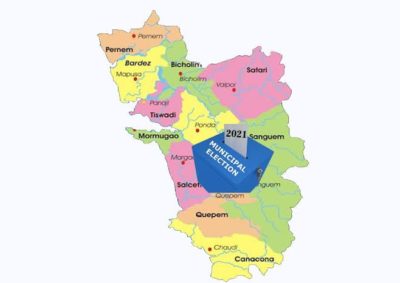 Goemkarponn desk
PONDA: Marcaim Nagrik Kruti Sangh (MNKS) filed an objection with the Election Registration Officer (ERO) Mamlatdar and Joint Mamlatdar at Ponda.
In its complaint (MNKS) alleged the delimitation of panchayat wards as unconstitutional and unlawful and had demanded proper rectification and justice to aspirants wishing to contest the forthcoming election.
Premanand Gaude, President of (MNKS), said after delimitation, the voters are uneven in each ward. In some wards the voters are above 700, while in some wards voters are 360, there is no level playing field for candidates contesting the election.
In the objection letter pointing out how delimitation is unconstitutional, it mentioned that article 243 C(2) of the Constitution of India mandated /obligated that "each panchayat area shall be divided into territorial constituencies in such a manner that the ratio between the population of each constituency and the number of seats allotted to it shall as far as practicable be the same throughout the panchayat area. "
Whereas delimitation of wards of village Marcaim is not as per article 243 C (2) of the constitution of India.
Further, it also pointed out that section 7(3) of the Goa Panchayat Raj Act 1994 also mandated/obligates that "The Director shall divide each panchayat area into wards, the number of which shall be equal to the number of members determined in respect of such panchayat under sub-section (1)" Whereas delimitation of the ward of village Marcaim is not as per section 7(3) of Goa Panchayat Raj Act 1994.
In the Panchayat delimitation list draft proposal is shown as under with uneven, unequal distribution of voters.
In ward number 1 the voters are 573, in Ward 2 – 527, in Ward 3 – 360, in Ward 4 -446, In ward 5- 717, in Ward 6- 674, In ward 7 -628, In ward 8- 649, in ward 9-700 and the total voters are 5274.
According to Premanand Gaude, as per the provision of law, the average number of voters per ward should be total voters (5274) divided by several nine wards comes to 586 average voters per ward. In view of the above, he requested authorities to rectify the delimitation of wards strictly as per article 243 and section 7 of Panchayat Raj Act Goa.
Comment