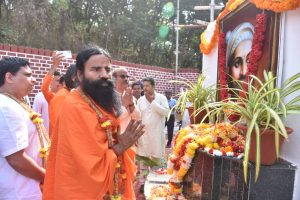 Goemkarponn desk
PONDA: Yoga Guru Baba Ramdev and Kundaim Swami Brahmeshanand on Sunday attended the State level Shiv Jayanti Function at Farmagudi held in the presence of the Chief Minister and dignitaries.
Yoga Guru Baba Ramdev, in his speech, praised King Shivaji, who he claimed was the pride of the entire nation and humanity.
He alleged that most State Boards and NCERT books teach false History and that the History of the Mughals is glorified and taught while our ideal Heroes are sidelined. "All this needs to change. Akbar, Babar, and Aurangzeb are not great for us, but our superheroes, King Shivaji, Rana Pratap, Chandrashekhar Azad, and Veer Bhagat Singh, are the real Heroes of India," he stated.
He said Shivaji fought for National interest and won 500 Fort during his life. During his rule, Shivaji did not make any caste difference.
In the near future, India will lead the entire World, and everyone should contribute to strengthening the country. He said rashtrawaad is the need of the hour for Hindu Swaraj, as expected by king Shivaji.
He said our great king did not make any caste discrimination, and people from all castes as well as Muslim soldiers were in his army.
He further said that India's neighbour Pakistan would break into four pieces.
Baba Ramdev said Pakistan is going through economic bankruptcy. There is unrest in its various part; some praises India while Punjab Sindh part wants to join India, and it appears next few days, Pakistan will break into four pieces, and it will reduce to a small country and rest three pieces of Pakistan will join India.
Comment