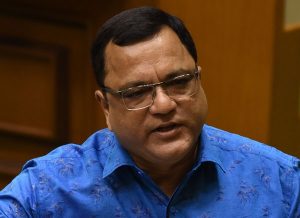 Goemkarponn Desk
PANAJI: Transport Minister Mauvin Godinho asked the transportation industry's players on Friday to choose a digital system to provide better services to people and visitors to the coastal state, noting that tourists from all over the world travel to Goa.
In accordance with this plan, private buses will be contracted out to the state-run Kadamba Transport Corporation Limited (KTCL) in order to improve public transportation.
All bus, taxi, and other transportation industry stakeholders were asked by Godinho to support technology and digital systems and unite on one platform.
"Digital systems will completely transform the game. Digital systems won't permit manipulation, and customers will receive excellent, transparent service. The transportation system has to be improved. Owners of taxis ought to use online networks.
"You can create your own app, but it's an urgent requirement. Bus movements can be tracked with the aid of GPS technology. Today, we can use our mobile devices to track the progress of flights, find out why they are delayed, and do other things, according to Godinho.
Within the next six months, he claimed, individuals will be able to access all the information on buses operated by KTCL on their mobile devices thanks to the Intelligent Transport Management System.
He also expressed gratitude to the first 25 private bus owners who volunteered to take part in this program.
"So far, financial permission has been granted for 187 buses. The file for this scheme will be changed to include more buses after assessing the response, he said.
The "Mhaji Bus" program was approved by the Goa cabinet in May 2023. According to Chief Minister Pramod Sawant, it will help launch nighttime transportation service.
In the state, there is no bus service after 8 o'clock. We are prepared to accept losses, but the bus transportation service must begin at night. It is accessible in additional states. Once we launch this service, Goa visitors and even locals will be able to take buses home at night. Even those who start working the third shift will benefit from it, according to Sawant.
There are currently 1,460 private buses operating in the state, 600 of which are owned by Kadamba Corporation and include electricity buses.
Comment