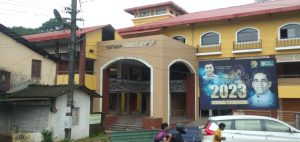 PONDA: The famous Banastari Chaturthi Matoli Bazaar built ready and likely to held this year at new Banastari Market Complex. The Market inauguration likely between 21 to 25 th and final date of inauguration would be declared soon said Art and Culture Minister Govind Gaude.
The workers were seen busy in giving final touch and were seen painting work of building.
The Banastari Ganesh Chaturthi Matoli Bazaar is famous in Goa, however it was shifted to new location near Maruti Temple by the side of NH since past three years after construction work began on new Banastari Market complex is progressing since past three years. The Old Portuguese era market structure was demolished and vendors were shifted temporarily near Maruthi temple.
Since the space is falling short the vendors as well customers were complaining about facing hardship during Chaturthi festival. The work is taken by Government by costing Rs 19.50 crore. The ambitious market has spacious 700 capacity sitting hall on second floor, shops around fifty , fish market, cold storage facility open market for vendors, health centre, library etc.
Recently local MLA and Art and Culture Minister Govind Gaude inspected the ongoing work of Banastari Market. He said the work on completion is in final stage. There will be effort to conduct this year Chaturthi Matoli Bazaar at this new Market Complex. Speaking after inspecting the work, Gaude also said that the market complex work is almost complete and some finishing work is underway and once completed, the date of its inauguration will be fixed and it will be thrown open to the public.
The Chief Minister Pramod Sawant had announced inauguration on 15 August however due to hectic schedule it will be held between 21 st to 25 August said Minister Govind Gaude.
Comment