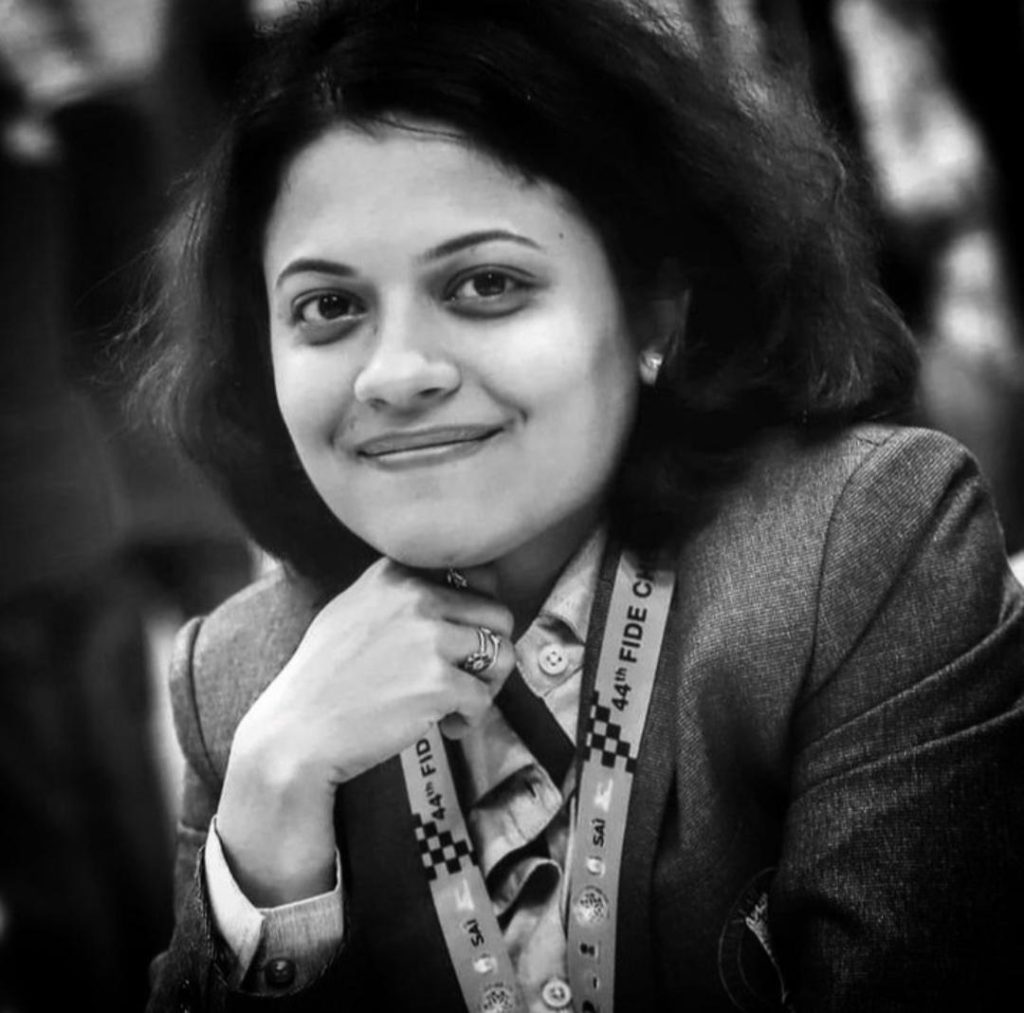 Urges youth to take make use of technology smartly and not waste time on social media;
Credits parents, SAG and Srinivas Dempo for her success in Chess
International Chess Master Bhakti Kulkarni emerged to be the first woman of Goa to receive the country's second-highest sporting honour, the prestigious Arjun award. Goa has bagged this prestigious award after a long gap of three decades. International women's Chess grandmaster Bhakti Kulkarni will receive the Arjuna Award for outstanding performance in 'Sports and Games 2022' from President Droupadi Murmu on November 30 at Rashtrapati Bhavan, New Delhi. Goempkarponn correspondent Sthrigdhara Naik speaks to Goa's ace Chess sensation Bhakti Kulkarni to find out more about her journey to the top.
Sthrigdhara Naik (SN): Congratulations, Bhakti; what was your initial reaction after knowing you were amongst the 25 selected for prestigious Arjun awards?
Bhakti: Thank you. About my reaction, I was in the middle of my training session when I received a call from a senior journalist – Mr Rakesh Rao, who shared the good news of me being bestowed with the Prestigious Arjuna Award. I was super delighted! On top of that, I will be the first woman from the State of Goa in the Chess field to receive this award. It's a very special feeling. Receiving it at the hands of Hon'ble President – Murmu Ji, a strong, determined woman, is so very special that it cannot be explained in words.
SN: Who would you give credit to for this marvellous achievement?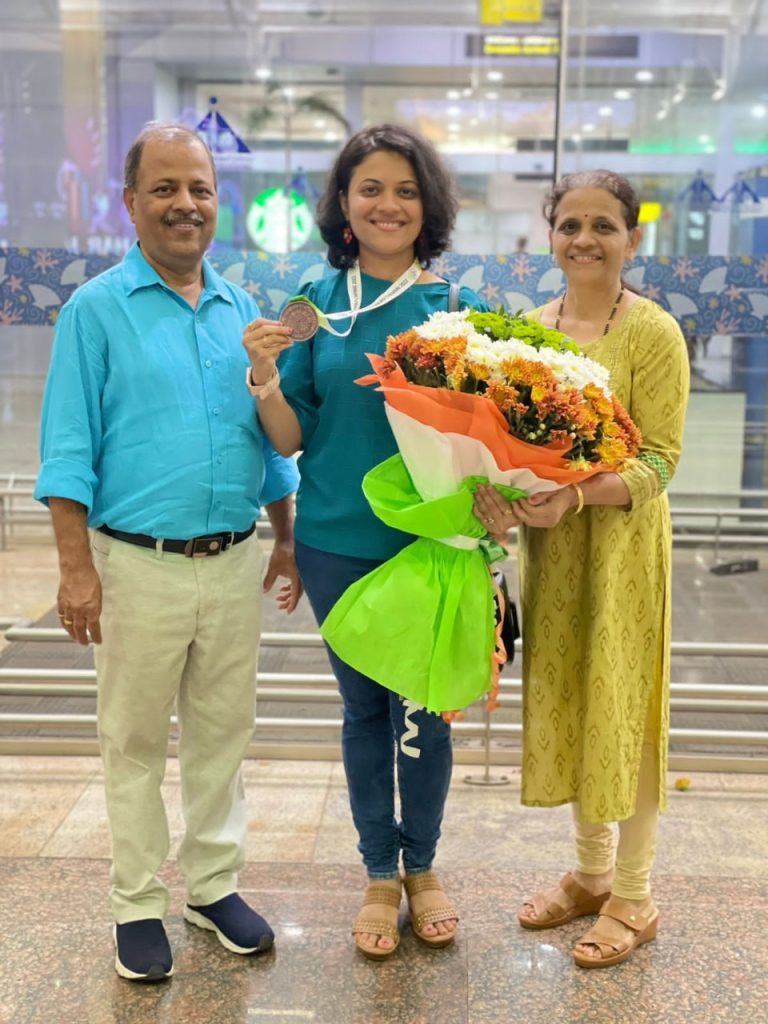 Bhakti: Many people have contributed to my successful journey till now. My parents encouraged me to take up Chess 27 years ago when it was not that popular or rather not a common thing to put a daughter into sports. My coach, Dronacharya awardee Mr Raghunandan Gokhale who believed in me; my extended families in Goa, friends, Sports Authority of Goa; my former sponsors, Mr Shrinivas Dempo, my school-Mahila & Nutan English High School, everyone has played the crucial role in this journey of mine.
SN: Our readers are curious to learn about your journey from entering this field to reaching the top and finally being bestowed with the Arjuna award.
Bhakti: I started learning Chess at the age of around 2.5-3 years of age. At 4, I played my first-ever tournament at Bambolim. I won a bronze medal at my very first Nationals in the U-7 category, which gave my family real hope, and since then, I have always tried to make it in the top three of the Nationals. The turning point came in 2006 when I played my first International event in Iran and won a gold medal for our Nation in 'Asian Youth Chess Championship'. Later in 2008, Mr. Dempo came forward and made me their Brand Ambassador for Goa Carbon Ltd company and provided financial support till 2020. His support was crucial for me, which enabled me to participate in international events and win many medals for my State and the country. I have won gold medals at State, National, Asian, Commonwealth and World schools. Now, my only task and goal are to win the World title very soon, and I am working hard for it with my personal coach and other coaches. Recently I was invited by former World Champion Viswanathan Anand to join his online chess academy 'WACA' where I got an opportunity to learn from some of the best coaches in the world.
SN: Bhaklti, can you tell our readers about your routine and the time you spend practising Chess?
Bhakti: My routine is quite boring for a normal person. Before Covid-19, I used to wake up early, exercise for about an hour at home or sometimes at the gym and study Chess for 6-7 hrs. Post-Covid, we started having online tournaments, so I had to adjust to the new routine of staying awake till late to play online events. Competition has increased a lot nowadays in every sector of this field. We have to be ready to meet new challenges. To tell you, I was never a social person. Otherwise also, a chess player needs to remain silent for hours together. Till now, I have missed many family functions, but no complaints. I ensure I spend some time on my physical fitness and see my relatives and friends whenever possible.
SN: What motivated you to play Chess initially?
Bhakti: Actually, I was too small when my dad had already decided to make me a chess champion. In a way, I was fortunate to have someone at home who knew this sport. Otherwise, it's tough to encourage their kids to take up any sport without proper knowledge and guidance.
SN: Who are your role models?
Bhakti: My role Models include our former World Champion, Viswanathan Anand, who inspired the whole country to learn Chess and Current World Champion, Magnus Carsen, who plays like a machine and wins almost every single tournament.
SN: At what age did you start playing Chess first?
Bhakti: I started learning Chess at the age of 4. I was the youngest participant in my first tournament. I remember organizers very kindly used to present me with a cute trophy as a consolation prize, which made me really happy then.
SN: Which was the very first award you received?
Bhakti: I won my first award in 2011 – Geno Awards by philanthropist Mr Dilip Salgaocar, who later gifted me with a nice laptop which was very helpful to me in preparing for Chess.
SN: What motivational message would you like to give our youths to take up sports as a career?
Bhakti: India won the first-ever bronze medal this year at the chess Olympiads, which was held at Mahabalipuram, Chennai. I was part of the team. After which Goa govt felicitated me and announced a govt job. This will likely encourage many people and mainly parents, to take up sports seriously and work towards it.
The generation is changing rapidly. When I was a kid, I got my first mobile phone when I went to standard XIth. There were fewer distractions. This is a very special time when kids can actually make use of technology more smartly. So instead of wasting time on social media, I advise them to spend at least 30 min on daily physical fitness, which is a must. If the body is fit, we can do anything. Secondly, choose your career/field after properly consulting the specialist, don't take up something just because your friends are doing it. And try to have clarity about your goals and plans to achieve them; work hard and smart! Both essential. Irrespective of whatever the results may be, always be positive. Develop a 'never give up attitude. Finally, champions are determined by how quickly they get up after falling down.
SN: What are your future plans?
Bhakti: I will attend the grand function on November 30 at Rashtrapati Bhavan, Delhi. The next day I'll be travelling to Kolkata, where I am invited to play in the Prestigious Tata steel rapid and blitz (fast time control format) tournament. At the moment, I am focusing on this.
Comment