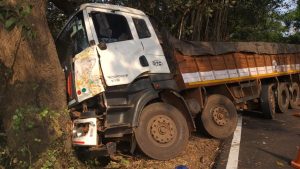 Goemkarponn Desk
CANACONA: After a 4-hours traffic hold-up on Canacona section of NH66 due to a Canter and Truck accident late Thursday evening, smooth running of traffic is once again disrupted on in Canacona early Friday morning, after a Truck hit a roadside tree partially blocking the traffic through out Friday.
According to sources, a loaded inter-state truck (KA22 C9587) coming from Margao was proceeding to Karwar when while negotiating a slope, the truck strayed to its left ad nose-dived before hitting its front side to a roadside Tree. Luckily for the driver who escaped with minor bruises, the truck came to a halt after hitting the tree, and escaped a fall down the gorge below.
Incidentally, the incident occurred at about 6.30 Friday morning, but till 10 amm, there was no sign of either police or traffic personnel even as traffic was stalled for/disrupted for several hours.
While the light traffic could easily pass on the narrow one-side, highway came to a stand-still and traffic stranded every time a heavy vehicle could cross-over with great difficulties
The traffic police personnel who were challaning traffic violators at the entrance of Manohar Parrikar Canacona Bypass Road, a kilometre away, finally turn up at the mishap site and began to regulate the traffic finally bringing relief to the motorists.
The Bollard Posts were kept to slow down and guide the traffic while two policemen (Traffic) stood guard to regulate the traffic.
Thursday late evening due to accident between SUV Car and a Canter-Truck the NH66 road was blocked for well over 4 hours and traffic was diverted via Agonda-Khola route.
Comment