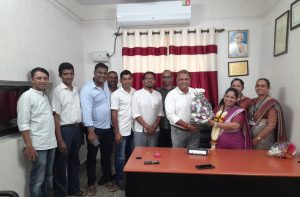 Goemkarponn desk
CANACONA: Mrs. Nisha Suraj Chari is elected unopposed as the new sarpanch of Loliem-Polem village panchayat on Tuesday.
Smt Chari, a first-time panch from Idhar (ward no.1) was elected unopposed backed by eight(8) of the 9-members Loliem-Polem panchayat on Tuesday.
The outgoing sarpanch Pratiza Bandekar was the only panch member absent for the special meeting presided by Canacona BDO Extension officer Biva Velip in the presence of panchayat Secretary Sandeep Dessai.
As Nisha was the only nomination received for the vacant post of Sarpanch of VP Loliem-Polem, presiding officer Biva Velip declared here elected unopposed for the post of Sarpanch after following the due and timely election process in the panchayat office.
It may be recalled that in the mid of last month (October), the then sarpanch Pratiza Bandekar citing personal reasons and not allowing her to function properly by some senior panchas resigned amidst claims of putting undue pressure on her to agree to a Film-City on Bhagwati Plateau.
As the post of Sarpanch (Loliem-Polem VP) is reserved for Women, the appointment of Smt Nisha Chari assumes significance amidst the resident's claims of the panchayat body is inclining/ favouring developments on eco-sensitive Bhagwati Plateau, against the gram sabha resolution of not permitting any sorts of development and preserving Bhagwati plateau for posterity for future generations.
Meanwhile, a few eyebrows are raised after VP Loliem-Polem's Secretary in a notification convened meeting of the panchayat body on Thursday (17-11-2023). Though some five agenda points are listed for the supposed month meeting of the elected members, some residents expressed apprehension about whether there is any hidden agenda, particularly on the proposed Fil-City on the Bhagwati plateau too to be discussed. However, sources close to the Loliem-Polem panchayat however, confirmed that even as the notification for the panchayat body meeint is issued on Tuesday, no intimation or any correspondence on 'Film-City' was received in the panchayat office till end-of-the-day on Tuesday.
Comment