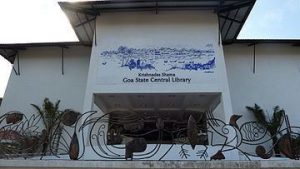 Goemkarponn desk
PANAJI: It's almost been a three months since Krishnadas Shama Central Library's central air-conditioning (AC) system has been non-functioning, causing inconvenience to the readers.
With the authorities turning a deaf ear to the frequent complaints received by the readers, Goemkarponn spoke to Senior librarian Sulaksha Kolmule, the current in-charge officer of the library, who informed that the faulty Variable Refrigerant Volume (VRV) unit has resulted in the shutting of all the AC units of the building since almost 3 years.
A VRV control system is a multi-split type AC unit that uses variable refrigerant flow control to maintain individual zone control in each room and various building floors.
Kolmule said they received multiple complaints from the readers about the non-functioning of the AC. Since the design of the building is such that the centralized AC system is the only source of ventilation, the problem will only be sorted out once and when the VRV system is replaced.
Informing further, Kolmule said the VRV unit has been non-operational for the past 2.5 years.
The central library sent a file for its repair and maintenance to the Finance Department (FD) almost a year ago. "Department of Finance has now asked to submit a revised estimate file and at the same time has informed that the said maintenance work will be taken up by Power Works Department (PWD)".
Non-functional AC unit is not only causing inconvenience to the readers but also threatening damage to an age-old collection of books and manuscripts, said Selena Fernandes, a regular reader & visitor of Central Library.
According to Fernandes, the occurrence of heat in a room with low humidity results in the dehydration of fibres in the books, thereby turning the pages brittle, while the high humidity, in combination with heat, creates the ideal growing condition for mold.
This oldest Public Library in India is home to lakhs of newspapers, periodicals, manuscripts, journals, braille books and maps and official gazettes. Non-functional AC units are not only exposing the old text to severe damage but also pushing the rare books into a state of advanced disrepair, added Fernandes.
Veteran writer and Jnanpith Awardee Damodar Mauzo fearing the permanent loss that might occur to the ancient documents made a strong appeal to the authorities to address the issue at the earliest.
Mauzo said that the non-functioning of the AC unit in the reading section of the central library is posing a threat to the carefully preserved manuscripts and old books. "As a book lover, I strongly believe in the conservation of ancient documents. Krishnadas Shama Central Library being the State apex public library, I believe that special attention is required to be given to the treasure of text which has been stored inside to avoid loss".
The six-storied centralized AC building, which holds the ancient collection of age-old books, is currently under the administrative control of the Directorate of Art & Culture.
Comment