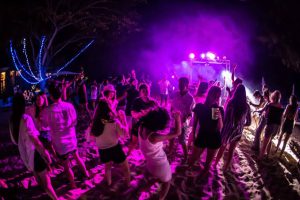 Goemkarponn Desk
PANAJI: As state grapples to control the unending party trend with noise levels breaching permissible limits, especially along the coastal areas, the pollution authorities have decided to put in place online real-time noise monitoring terminals across 12 locations.
The Goa State Pollution Control Board (GSPCB) during its recent Board meeting decided to set up a continuous, real-time online noise level monitoring facility with a centralized networking system linked to the offices of the GSPCB, Police Department and District Collectors. The system will monitor noise-levels connuously for 24 hours, 365 days a year.
The Board had undertaken noise level mapping to identify locations covering commercial zones, silent zones, and industrial zones to install these noise monitoring terminals. Total 12 locations, most covering coastal areas of North Goa, are identified for installing the facility.
According to the Board official this real-time monitoring of noise levels was a first in the State. "The Board has laid major focus on the coastal belt and mostly in North Goa where rampent parties take place," official said.
At the same time, we will also install the facility at silent zone areas like Goa Medical College and Hospital and the High Court area, to see whether there are any violations, official added.
As per law, the ambient noise quality standard for industrial areas in the daytime is 75 decibels (dB) while it is 70 dB at night time. For commercial areas, the noise level is restricted at 66 dB at day time and 55 dB at night, whereas for residential areas, the noise standards are 55 dB during the day and 45 dB at night. For silent zones, the prescribed limit is 50 dB during day and 40dB during night hours.
Explaining about how the system will work, the official said that the online data will come to the GSPCB office with one feed going to the concerned police stations and district collectors' office, thus helping them act swiftly.
Official said that the data along with live location will help the authorities like police and district collector to take swift action.
Comment