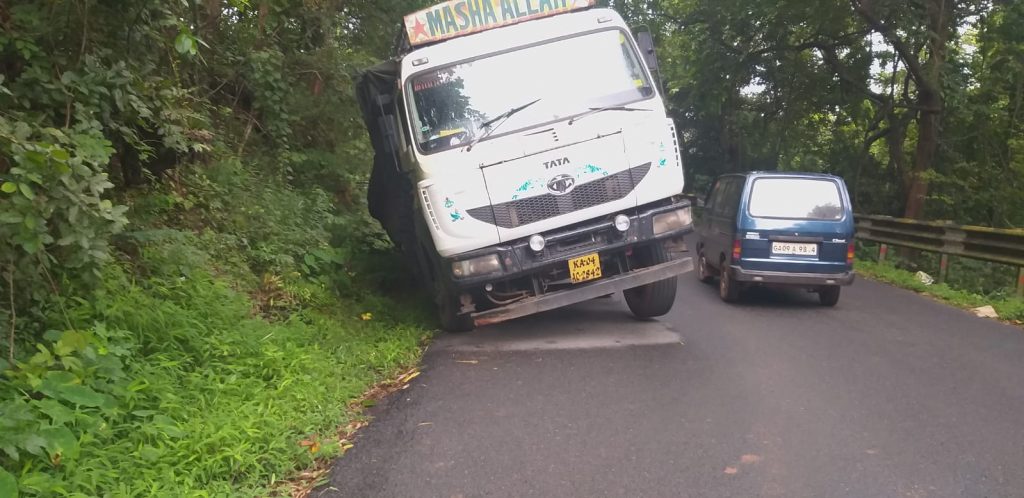 Goemkarponn desk
CANACONA – Trucks bringing Mines material from Karnataka are blamed for the traffic indiscipline resulting in mishaps along the narrow NH-66 road in Canacona.
A Mining Truck bearing registration no. KA 04 AC 2842 is caught on the right side of the roadside trench (towards Margao) at Karmalghat.
The loaded truck coming from Hospet (Karnataka) was reportedly attempting to overtake another loaded heavy vehicle at a slight right turn towards Margao, and instead, its right-side wheels went down roadside drainage trenches.
The truck has been lying there for almost a week now, as vehicles coming down the Karmalghat slope from Margao and proceeding the blind left-turn are having a tough time averting hitting any on-coming vehicle driving up the Karmalghat on their left side.
The worst is that as the truck has been lying there for almost a week now, there are neither warning signals nor traffic personnel to regulate the traffic.
"Mining trucks are regularly plying on this route, and inspite of having full knowledge of the narrowness of the highway, especially on Karmalghat, these vehicles resort to overtaking measures and park vehicles anywhere and also drive recklessly, risking others' lives", a motorist driving to Margao was heard complaining.
Another two-wheeler rider coming down the slope and just missed colliding with an oncoming vehicle while crossing the trapped truck complained, 'After the mishap, there was an immediate need for the police personnel to regulate the traffic, but that has not happened, nor any warning signs are placed at the site. There is a great driving risk at Karmalghat, and it's like 'if you want to reach home, drive slow and safe', '
Locals criticizing the aloofness of authorities demanded immediate removal of the truck and measures to immediately take up widening of this road section.
Comment