Goemkarponn desk
MARGAO: Just when the tourism season was about to begin in Goa, the tarballs or the oil slicks have hit the Goan beaches badly, resulting in tourists and locals staying away from beaches.
Both in North in South Goa, the tarballs washed away on the beaches have created havoc.
The tourism business, which took a severe beating from COVID19 and is now on the verge of collapse, had shown some signs of improvement, but the tarballs have hit the industry badly yet again.
But in South Goa, the coastal areas of Colva, Benaulim, Uttorda and Majorda are in dire straits, which has affected the tourist business.
Oil spheres have been forming on the sea for the last three days and washed ashore, thus proving that the seawater is polluted and the amount of oil spray increases day by day.
Every year these asphalt balls and thick black oil balls are washed ashore. However, this year there has been a significant increase. The effect is seen on Colva, Velsav, Benaulim, Uttorda, Majorda beaches in South Goa.
Tourists are also worried about the oil balls and have avoided coming to the beach.
Fishermen have also expressed concern about this.
Their business has also been hit hard by rising oil spheres, making it difficult to find fish in the sea.
The environmental threat is severe, and fishermen and coastal traders have demanded that the government address the issue as soon as possible.
Many traditional fishermen have told Goemkarponn that dipping of oil by big Ships in dip sea creat this problem.
"They say this should be stopped; otherwise we will have to face big environmental problems in future," he stated.
Political race to clear oil slicks
After AAP Volunteers started cleaning the beach, Team Churchill and Panch members of Colva reached the Colva shore and cleaned the beach.
There was also an allegation from AAP volunteers that the Churchill Alemao supporters had damaged their Benaulim office after their beach cleaning drive. An allegation that has been outrightly rejected by Churchill supporters.
Oil spill is dangerous to environment: Hanzel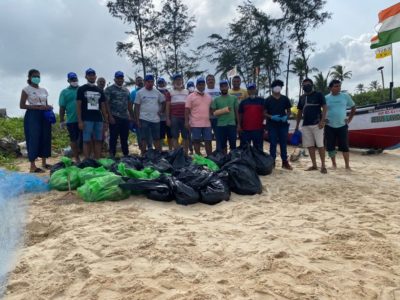 Benaulim ZP member Hanzel Fernandes told Goemkarpon that he has been working for beach cleaning for many years.
"I have done many mini-projects and conducted sevrage drives to clean the beach as this is the precious gift from nature we got, and beaches are our wealth," he said.
He stated that oil spills are a big problem faced by Goan beach's, but if people take little extra care, it can be avoided to a great extent.
"Tarballs are dangerous to nature and also to marine life. Government has to do awareness on this issue," he added.
He requested the coast guards to keep a strict check on the shipping industries as they as the case of oil dumps in the ocean.
Comment