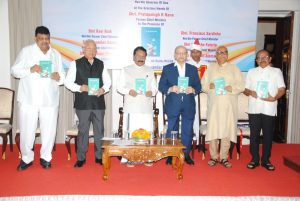 Goemkarponn desk
PANAJI: Former Chief Minister, Shri. Pratapsingh Rane released 199th book titled "On The Sides Of The Angels" a collection of Short stories (English) authored by Governor of Goa, P. S Sreedharan Pillai, Published by M/s Qurate Books, in the presence of MLA, Digambar Kamat, Former CM, Laxmikant Parsekar, Former Chief Minister, Former Chief Minister, Luizinho Falerio, Former Chief Minister, Churchill Alemao at Raj Bhavan today.
Governor in his address stated that stories written in the book "On the sides of the Angels "has two aspect -one is imagination and other is real experiences in life. As a public worker, I had the opportunity to realise and understand what is happening around me, Governor added. The Governor mentioned that out of the six stories, one is set against the backdrop of Goa, while the remaining five stories have their narrative roots firmly planted in his beloved hometown in Kerala.
Former Chief Minister Shri Pratapsingh Rane extended his congratulating the Governor on the release of his 199th book. appreciated othe Governor, and said that the book is penned by an individual who deeply believes in the principles of genuine democracy.
Elaborating on his remarks, Shri Rane emphasized that in our society, we have the freedom to voice our thoughts but one should avoid imposing them on others.
During his address, Shri Digamber Kamat acknowledged that Sreedharan Pillai, in addition to his literary pursuits, holds the unique distinction of being the first Governor to visit every village in the State of Goa. Shri Pillai also demonstrated his compassionate side by extending valuable assistance to people in need, particularly those requiring kidney dialysis treatment. To many of these families, the Governor was nothing less than an angel, Kamat added.
In his address, former Chief Minister Shri Luizinho Faleiro congratulated the Governor and emphasized that the State is privileged to have a Governor who has made sincere attempts to understand the people, their culture, ethos and traditions. Luizinho also expressed his hope of seeing the Governor serve as the President of India.
Laxmikant Parsekar congratulated the Governor and noted that this is the first instance where any Governor has made an effort to gather all former Chief Ministers on one platform.
Churchill Alemao shared his congratulations with the Governor for his 199th book and voiced his hopeful vision of the Governor successfully authoring his 500th book in the future.
In attendance on this occasion were the First Lady, Smt Reetha Pillai and the Secretary to the Governor, M. R. M Rao, IAS.
Comment