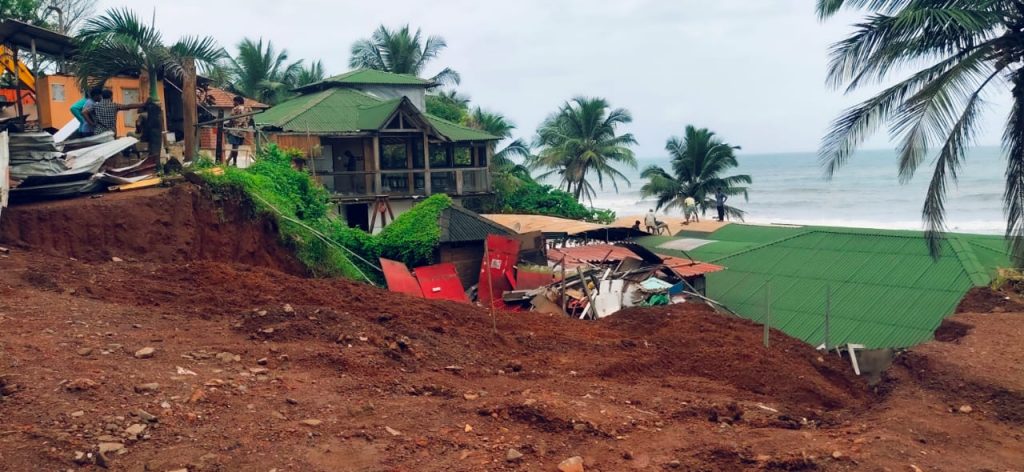 SURAJ NANDREKAR
ANJUNA: From being one of the most happening places in North Goa, Curlies restaurant, a day after it was partly demolished, wore a war-ravaged look with a heap of debris of concrete, still, wood ash and other materials lying down.
The restaurant or shack was partly demolished after the National Green Tribunal (NGT) refused to stay the GCZMA order to demolish the restaurant for CRZ violations on No Development Zone.
However, the onlookers and the locals in Anjuna now say that the authorities who are undertaking the demolition – the GCZMA and the Revenue authorities are causing more damage to the beach than Curlies did.
"If you see the demolition, it is without a plan, and they have just destroyed the whole hill where the Curlies started from," say witnesses of demolition.
The locals also questioned the hurry in demolition.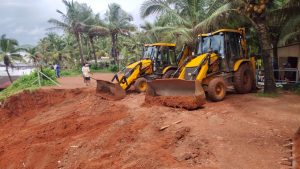 "Why demolish in such a hurry? The authorities could have planned it better – the demolition. It now seems like the authorities just wanted to bulldoze the whole restaurant before any stay order could come," said one resident.
Ravi Harmalkar, a respected citizen of Anjuna, says there are hundreds of illegal businesses run by non-Goans like New Delhi along the Anjuna-Vagator coastal belt, but no action is being initiated against them.
"This government is against locals. There are hundreds of businesses which violate CRZ norms. In Vagator-Ozrant, several illegal restaurants belong to politicians of New Delhi. Why no action against them? If the government is serious about taking action against illegalities, then take action against all these structures." Harmalkar asked.
He further said to build a business of the standard of Curlies takes a life.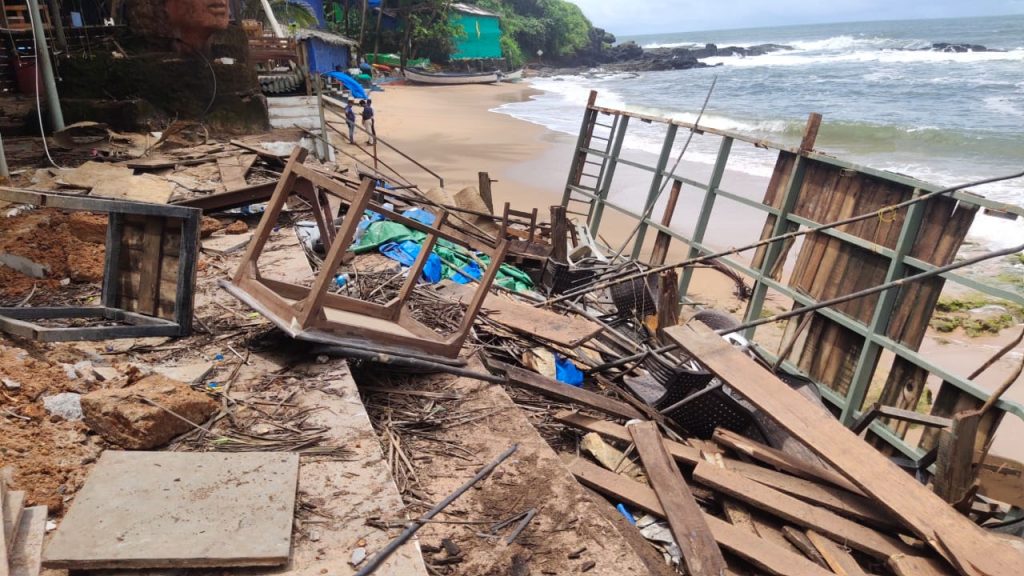 "What happens to the 200-250 workers who worked here? The government should have given thought to them. The 250 people are jobless, will the government give them jobs?" he asked.
The Co-Owner of Curlies, David D'Souza, says that there was no need for such a hurry.
"Tell me, what was the reason for demolition in a hurry? Are we terrorists or enemies of Goa? Don't understand what is the link of Curlies with the Sonali Phogat's death. She did not die here, she was forcefully given drugs bought from someone else, so why to blame Curlies?" he asked.
He said every day, at least a thousand people visit Curlies. Is it possible to check what someone is consuming or what he/ she has hidden in undergarments?
"Police are in-charge of law and order and can come and check here anytime. Everybody will do what they want. This is turning out to be a banana republic," said David D'Souza.
Speaking further on demolition, he said the authorities had done more damage to the place than Curlies.
"Just see at the way they have cut the hill. Now, if it rains heavily, there is a chance of landslide and destruction of life and property," he said.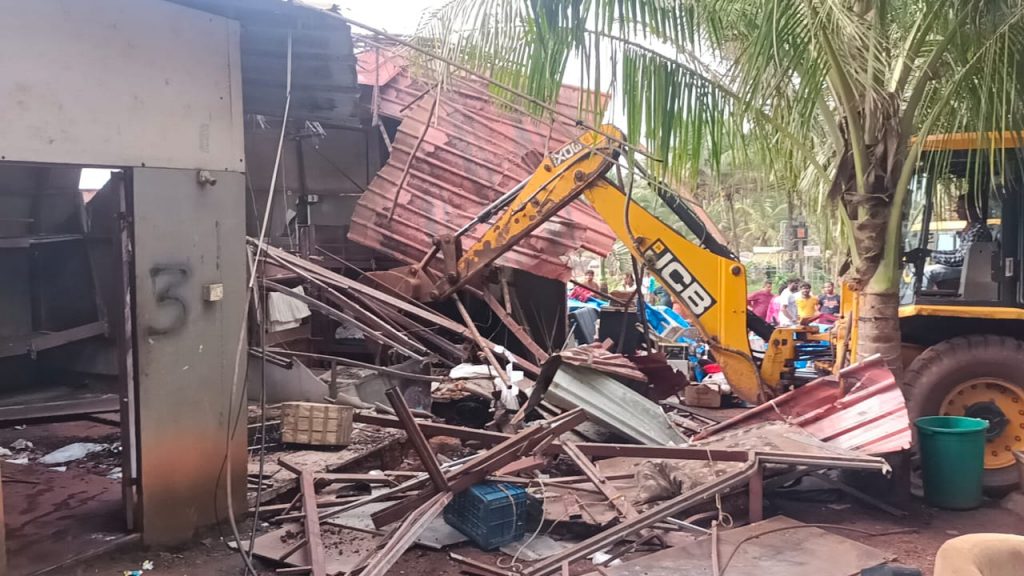 He said the CRZ laws now need a re-look.
"In the Regional Plan 2001, the entire area along the Anjuna coast was shown as a settlement zone. So how can you say there is any violation?" he asked.
He also asked what is CRZ?
"CRZ is supposed to be the land influenced by tidal action up to 500 metres from the high tide line. Does tidal action influence this place? Only Palolem and Anjuna beaches have been shown as settlement areas. This is not a dune beach like Calangute, Miramar. Anjuna and Palolem are pocket beaches," he said.
Supreme Court order
Here is what the Suprem Court Order says:
This matter is mentioned for urgent listing. Considering the fact that the impugned order was passed on 06.09.2022 and the fact that the demolition has been going on, we have taken this matter on Board and heard learned counsel.
Mr. Huzefa Ahmadi, learned senior Advocate for the appellant, has invited our attention to certain documents to submit that the structure in Survey No.42/10 was in existence prior to the year 1991. He has further submitted that his client stands by the statement recorded by the National Green Tribunal in paragraph 8 of its Order to the effect that only Survey No.42/10 belongs to the appellant and other structures do not belong to him.
Issue notice, returnable on 16th September, 2022.
Mr. Abhay Anil Anturkar, learned Advocate, has accepted notice on behalf of Goa Coastal Zone Management Authority.
Other respondents be served dasti.
Pending notice, we direct as under :
(a) Consistent with the statement made by the learned senior Advocate on behalf of the appellant, structures in existence in lands other than Survey No.42/10, are not covered by the width of this Order. Resultantly, if there be any unauthorized construction in lands other than Survey No.42/10, the demolition can certainly go on.
(b) There shall be stay of demolition with respect to structures standing on Survey No.42/10 subject to the appellant not undertaking any commercial activity in or with respect to said structure.
(c) Mr. Anturkar, learned Advocate, shall file response on behalf of the concerned respondents on or before 14th September, 2022, enclosing all the reports in connection with the matter as well as the pictures and plans.
A copy of this Order shall immediately be
communicated to the concerned respondents.
In any case, Mr. Anturkar, learned Advocate, has undertaken that he shall immediately communicate the text of the order to the concerned respondent(s). According to Mr. Anturkar, learned Advocate, he has already sent an appropriate message to the Member Secretary, Coastal Zone Management Authority.
(NEETU KHAJURIA)
ASTT. REGISTRAR-cum-PS
(VIRENDER SINGH)
COURT MASTER
Comment