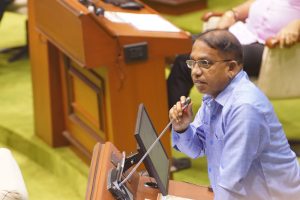 * PRAWAH Committee members to be appointed by Centre, says WRD Min
Goemkarponn desk
PORVORIM: While the opposition slammed the BJP-led government for their "insensitive" approach towards the Mhadei river diversion issue, Chief Minister Pramod Sawant maintained that State will not "compromise" on the river water.
During the Question Hour, the opposition led by Leader of Opposition Yuri Alemao and GFP MLA Vijai Sardesai corned the government over its failure to press for a stay on Mhadei Dispute Tribunal Award before the Supreme Court and also to restrain Karnataka from undertaking any construction work for its proposed Kalasa Bhandura project based on the detail project report approved by the Centre.
The opposition said that the government is insensitive and clueless as to how to approach the matter.
Fatorda MLA charged that the government is not serious about the Mhadei issue.
"Why is Goa Govt. not stressing on putting objection on reducing the gradient level of Mhadei river as it is increased by Karnataka? I urge Government to get stay on the award as nothing is on Goa's side as of date," Sardesai said.
He was rightly backed by Leader of Opposition Yuri Alemao who said: "Sarkar is not serious on Mhadei issue. No one knows who are members in private. There is no meeting of the House Committee. Opposition are not taken into confidence".
He sought to know whether the Central government will withdraw the permission granted to the DPR and if not what steps State intends to take.
Alemao also brought to the notice of the House that almost Rs 1 crore 66 lakhs are spent on Lawyers representing the Goa case but there is no outcome.
LoP demanded to know who are the members of the PRAWAH.
Responding to the volley of questions, Sawant said that the government is continuously following the matter and that there will be no compromise.
The Chief Minister said that the government has already filed an objection before union govt & requested not to grant any permission to Karnataka.
WRD Minister Subhash Shirodkar said informed House that the second House Committee meeting will be held soon after Assembly Session is over.
"I am personally monitoring all aspects related to Mhadei. Pravah committee members will be appointed by Centre," he said adding that the government set up the authority office of Mhadei in 15 days.
Comment