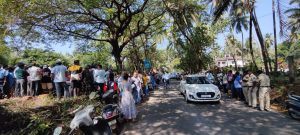 Goemkarponn desk
VELSAO: The Opposition against double tracking gained momentum on Friday mornings as residents, activists, and political parties gathered on tracks at Velsao.
A joint inspection was planned to be carried out by Mormugao Dy Collector Ravishekar Nippanikar, but till late afternoon, the Dy Collector did not arrive on site, giving the inspection a miss.
Speaking to the media, Goencho Ekvott founder member Orville Dourado said that it was enough of hide and seek and that the villagers had decided to confront the Railways and not allow double tracking anywhere in the entire village of Velsao, Cansualim and Arossim.
"We have maintained the status quo, but we have united now as one voice against double tracking even as more than 60 plus organisations have extended support to us in this fight. Villagers will ensure that no encroachment or criminal trespass will be allowed here, and we have also spoken to our legal team, who are ready," he said. He added, "We will not allow the double tracks work in any areas of Velsao Cansualim Arossim and Issorcim because the land acquisition by railways has been challenged, and the railway's advocate has been unable to provide ownership documents to the court. Let the railways establish their right on this land, and until then, we will not back off."
Dourado said the government may think ignorance is bliss, but we know what to do, and this is the land that belongs to the villagers, and we know what the people along the coast need, and no matter what happens, we will not backtrack even if they bring a huge security force.
Olencio Simoes said that it has been proved the Dy Collector has been in connivance with Railway authorities
"Every department is a failure, and they have failed to uphold the law in every department, with the Mormugao Dy Collector having supported railways works in private properties by criminally trespassing without documents and permissions. Water bodies have been buried, and trees have been felled, and while the CEC and Supreme Court have said that double tracking is not required, the Goa government is still going ahead with it. We wonder if the Goa Government is under some pressure from crony capitalists and if they have forgotten that they have to work for the people and their benefits," said Simoes.
Former Cortalim MLA Anton Saldanha said that there was documented evidence that works were being carried out on private lands.
"The railways are trespassing into people's property without a word to the owner and working as they please in a people-centric government. Everything is silent, and they know that this will destroy people's lives; in some cases, a house has one track in front and a second track behind it. The government must assess and find out how much the impact could be on people's lives
if they go ahead with double tracking. The government is literally throwing the people out of their own homes,' said Saldanha.
Velsao Sarpanch Diana Gouveia said that villagers had turned to the panchayat for help after they faced problems
"We are elected representatives, and we have all the right to fight for our villagers. We had received a complaint that railways had encroached into private properties, and we issued a stop work notice to them. The Dy Collector has to come on the ground and see the reality, but he is telling the railway authorities to carry out the work even without a plan. Let him come here and show the people the plans and documents so that people are aware and we can take necessary action accordingly. He is putting everyone in a mess, and he had not come here when he himself fixed the timing and said that he would come here," said Gouveia.
Comment