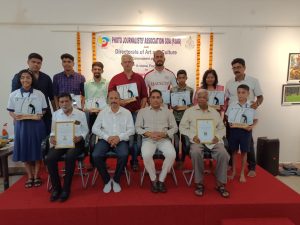 Goemkarponn Desk
PANAJI: Photo Journalists Association Goa (PJAG) had a successful 17th Annual function celebrating World Photography Day.
The event took place at the PJAG office in Panaji. The honorable Minister of Art And Culture, Shri Govind Gaude, was the chief guest, and the Director of Art and Culture Shri Sagun Velip was also present on the dias as the special invitee.
During the event, a photo exhibition was inaugurated, featuring the works of 23 press photographers from various newspapers in Goa. The exhibition showcased the talents of these photographers and highlighted the diverse perspectives they bring to journalism.
PJAG President Nandesh Kambli welcomed the guests and expressed the association's desire to promote Goan traditions, art, culture, and tourism through their photo exhibitions outside Goa. The Director of Art and Culture, Sagun Velip, praised the efforts of the Photo Journalists Association and pledged the department's support to promote Goan art and culture.
Minister Govind Gaude acknowledged the challenges faced by photojournalists and videojournalists in capturing daily events, especially during protests and agitations. He recognized the importance of news photos in conveying the essence of a situation and pledged his full support to the association. He also proposed the idea of exhibiting the works of Goan photojournalists in other parts of the country.
PJAG General Secretary Atish Naik announced the results of the PJAG annual Photo Contest, recognizing outstanding work in both the General and School categories. Minister Gaude then distributed prizes to the winners and honored veteran Photo-Journalists Barnabe Dias Sapeco and Senior Photographer Tukaram Vaghu Fadte.PJAG Treasurer Kailas Naik expressed gratitude and conveyed thanks to the guests on behalf of the association. The photo exhibition will remain open to the general public for two days, providing an opportunity for people to appreciate the artistic and journalistic talents on display.
BJP President and Rajya Sabha MP Shri Sadanand Shet Tanavade showed his support for the Photo Journalists Association Goa (PJAG) and its annual function, even though he couldn't attend the inaugural function due to his prior commitments.
His visit to the exhibition after the event and his well wishes for the future endeavors of PJAG demonstrate his appreciation for the association's work in promoting photography, journalism, and cultural heritage.
School Level Photo Contest winners as follows
Theme: Beautiful Streets of Goa
1 st Prize— Miss Nidhi Nilesh Naik
School: Peoples High School,Mala ,Panaji
3 rd Prize: Mast. Om Pramod Thakur
School : Bal Bharati Vidya Mandir,Ribander
Consolation prize: Mast. Nitesh Parshuram Gaonkar
School: Shri Shradhanand Vidyalaya ,Paingin,Canacona
General Category Photo Contest winners as follow
Theme: Heritage of Goa
1 st Prize— Anil S Purohit,
Place: Ponda
2 st Prize— Archana Nagvekar
Place: Margao
3 rd Prize— Manthan H Dessai
Place: Ponda
Consolation: Soham R Pai Kudav
Place: Cumbarjua
Consolation : Manish Satish Chopdekar
Place: Miramar,Panaji
Comment