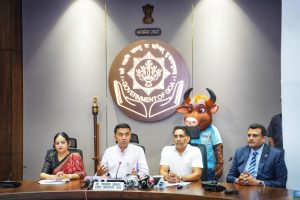 Goemkarponn desk
PANAJI: Chief Minister Pramod Sawant today announced that Prime Minister Narendra Modi will be inaugurating the 37th National Games 2023 on October 23.
"Prime Minister Narendra Modi will be inaugurating the 37th National Games 2023 on October 23. The opening ceremony will be held at Pandit Jawaharlal Stadium at Fatorda. This year's National Games will be unique," said Sawant.
He further said that the Government of Goa and the Goa Sports Department have made all the arrangements and 43 sports disciplines will take place this time and more than 10 thousand athletes will be participating.
The participation of an impressive 10,805 athletes is a testament to the grandeur and scale of this event, as stated by Goa's Chief Minister Pramod Sawant.
"These games will be played at 28 venues across the state. Last games there were 36 disciplines, for this Goa edition it will be 43. This is the record for Goa. This is a world record," he added.
Sawant said that this 37th national game will be the biggest compared to all the previous games that have happened – in terms of quality, quantity, games, and technical support.
"The official dates are from 26th October to 9th November. However, due to international tournaments and championships, some sports such as Badminton will begin earlier," he added.
Sawant said that Goa was keen to host the National Games for the last ten years. "This is coming into reality now and we are fully prepared for it. Along with the required infrastructure, even human resources is ready to host this sports event," he said.
He said that Goa had hosted football games much before the liberation of the coastal state and there are many sportsmen here.
Goa has a rich history of football games, which were played by the Portuguese here and in 1923, played host to the first international match in India between British vs Portugal.
"Along with spiritual and medical tourism, Goa will be also known for sports tourism in the near future. We will support all the national events in the state," Sawant said.
Sawant said that it is a proud moment to host the National Games and that the Goa government is committed to creating a robust sports culture within the state. "The National Games shall serve as a catalyst for the overall refinement and growth of the existing sports ecosystem in the state," he said.
He said that the infrastructure for the Games is ready and the state is ready to welcome all athletes.
On tickets, Sawant said that the entry to National Games would be free but people would be given some invitation cards for entry.
"10 places there will be live screening on the games at prominent places," he added.
Meanwhile, Sports Minister Govind Gaude said that Goa is hosting the National Games so that it can provide encouragement to the local sportsmen.
"This is a golden opportunity for Goan players. We are going to participate in all disciplines except 7," said Gaude.
Comment