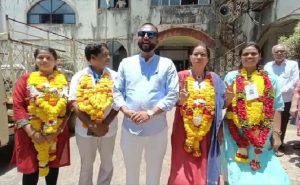 Goemkarponn Desk
PONDA: Despite campaign by several Heavy weight leaders of BJP, Rising Ponda Panel under leadership of MGP Leader Dr. Ketan Bhatikar gave tough fight to BJP backed Panel in PMC Election .
BJP panel got 10 seats, MGP 4 and Ind 1.
Rising Ponda lost two seats with close margin in ward 3 and ward 10. MGP Leader Sudin Dhavlikar was not seen in campaign but Dr.Bhatikar managed to win four seats. Congress did not shown much interest in election and also none of its candidate elected.
Tough battles were held in some of wards of PMC election, with some were won with Close margin. In Ward 10 Deepa Colvekar wife of former Councilor Shantaram Colvekar defeated Manasvi Mamlekar with margin of Just 1 vote.
In Ward 15 there was tie where in Geetali Talaulikar and Sampada Naik got 402 votes, however Geetali declared winner with elected by lots. In Ward 3 Jyothi Arun elected (263) with just margin of 3 votes defeating Cheril Dsouza (260)
The Eight old faces elected are Ritesh Naik second time, Anand Naik second time,Shivanand Sawant third time, Venktesh Naik fourth time, Geetali Talavalikar third time, Vishwanath Davli third time, Vidya Punalekar second time and Virendra Dhavlikar second time, while the seven others elected were new faces.
Nine males while six ladies elected.
Comment