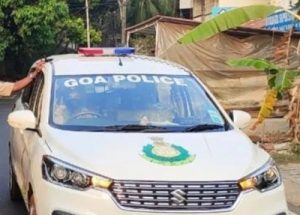 Goemkarponn Desk
CANACONA : A Police-driver is accused of 'Attempt to Kidnap' a senior citizen, residing in his neighborhood at Khotigao village. One of the Son of the Sr. Citizen, claiming he has foiled the attempt to kidnap by timely interference on Sunday, filed a complaint with the Canacona Police Station and Canacona Dy. Collector demanding investigation and action against the policeman.
According to the complaint by Shrikant Zilu Gaonkar of Barddem-Khotigao, about 300 m from his house, he (Shrikant) noticed one Sandesh Purso Gaonkar taking/walking along holding the hands of his father Zilu Gaonkar (72). Surprised on seeing his aged and not so keeping well father being taken away by someone, he stopped and sought to known where he is taking his father.
The person informed that Police Chandrakant Janu Gaonkar has told him to bring him, but could not say where he asked to bring him(father). The complainant son further informed that his father (Zilu) is 72 years old and he cannot hear and speak properly and also he cannot walk without the help of a stick or others help. His mother is no more living and his father lives with him as all his three sons, lives separately in different houses with their wives and children.
Shrikant further informs that Police-man Chandrakant Janu Gaonkar lives in neighbourhood and both the families do not share good relationship and has a longtime enemity. With each other. Under this circumstances, and situation, a person who is not well connected with us takes my father without informing anyone in the house, is a complete form of kidnapping.', Shrikant wrote.
Stating if a person goes missing, people consult the police to find the missing person and file a complaint at the station, but in this incident a policeman himself kidnap a senior citizen is a disgrace to the entire police department, demands serious action should be taken against the accused.
'Behind the kidnapping he did, I can guess that he can do his murder due to enmity, he can also keep an eye on their bank money, can do document related (power of attorney), etc.) scam by forging his signature. Because many such incidents have happened in this village'.
A police official who acts as a social worker and a person with knowledge of the law is committing a serious crime in the form of kidnapping. I request you to take serious action regarding this matter and take immediate action;, demanded Shrikant.
The complaints are submitted at Canacona Police Station (@11.50 am on 22/05/2023) and Canacona Dy. Collector & SDO also on 22/05/2023.
Incidentally, Chandrakant Janu Gaonkar, is a Police Driver @ Canaocna Police Station.
Comment