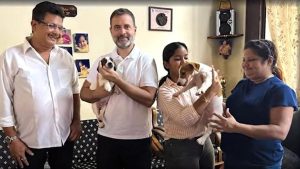 Goemkarponn desk
New Delhi: Congress leader Rahul Gandhi, had a surprise gift for his mother Sonia Gandhi recently — a Jack Russell Terrier puppy named 'Noorie', whom he introduced as the "newest member" of his family. However, hours after the video of Rahul Gandhi gifting the pets to his mother Sonia Gandhi went viral on social media and news portals, the People For Animals (PFA) official Instagram page said in its post, "Since 2018, buying and selling dogs has been illegal. Rahul Gandhi recently visited an illegal breeder in Goa and purchased two foreign breed dogs."
"It's unfortunate that he knowingly broke the law and showed such little respect for it by filming himself doing so," said the page on its post on Instagram.
"Please tag @rahulgandhi below and tell him You could have adopted a dog from Shelter instead of buying from illegal breeder. And as an Indian you should have promoted Indian breeds only," the page urged the people on its photo-sharing platform.
Video shared by Rahul Gandhi
In a video shared on his YouTube channel on World Animal Day, Rahul Gandhi can be seen paying a private visit to Goa and meeting the puppy who is later transported to Delhi.
"I'd like you all to meet the newest and the cutest member of our family — our li'l pup, Noorie. She flew in from Goa straight into our arms, and has become the light of our lives. Unconditional love and uncompromising loyalty — there is so much this beautiful animal can teach us!" Rahul Gandhi said as he shared the video.
"We must pledge to protect and share our love with all living beings," Rahul Gandhi said. The Congress leader called it a "little surprise for Ma", putting the the dog in a gift basket and asking his mother to come out of the house and have a look, as can be seen in the video.
Sonia Gandhi takes the dog in her arms, saying "she is so cute". Sonia Gandhi thanks Rahul and is seen playing with the puppy in the video. Rahul Gandhi had visited the state of Goa in early August.
Comment