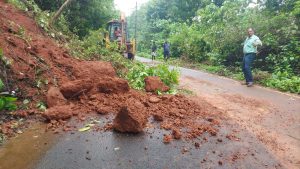 *Residents demand retaining wall in the area
Goemkarponn Desk
SANCOALE: Incessant rains caused a massive landslide at Upasnagar along the road bringing down boulders and loose mud.
The entire traffic along the road was stuck and the Cortalim MLA Anton Vas immediately arranged for a JCB to clear the boulders and uprooted trees from the road to clear the traffic.
Speaking to media, Social worker Eddie Fernandes said that there was a need for a retaining wall in the area.
" This is a busy road leading to the Sancoale Church and other residential areas and fortunately there was no human loss or injures reported in this incident. The incident occured early morning at around 7.30 am and i called the MLA Anton Vas who arrived at the location and carried out an inspection.
He arranged for a JCB to clear the road while giving necessary instructions to Fire Brigade , traffic police and other authorities. However this is a matter of grave concern as we see that there is loose mud and boulders are nearing the road and this area could have landslides again in the future as well.
We appeal the panchayat and Government authorities to take immediate remedial measures because landslide on a busy road could take lives of humans as well . The trees are also hanging dangerously and they must take immediate action because this is the only road that leads to the Church and other areas and could be prone to imminent danger if ignored by authorities. " said Fernandes
Ward Panch member Maurelio Carvalho said that remedial measures will be initiated along the vulnerable stretch of the road.
" We have seen small landslides all over due to rains but this landslide is a major one and is next to a road. We have requested the MLA to take up steps and as of now we have got a JCB to clear the site and we have also informed the panchayat. We feel that we atleast need to have a steel net on this hillocks to prevent dangers " said Carvalho
Comment