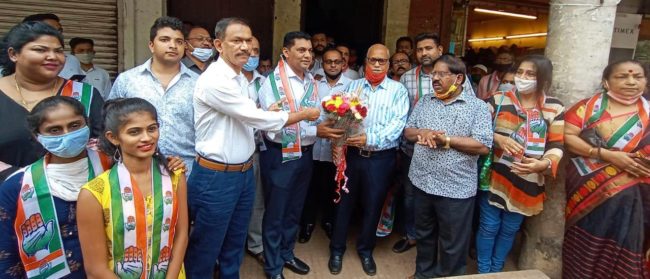 Goemkarponn Desk
PANAJI: The Social Worker Rajesh Verenkar, son of former MLA Shivdas Verenkar, from Ponda on Friday joined Congress Party along with his supporters in a function held in Congress House at Panaji.
The leader of opposition Digambar Kamat welcomed Mr. Verenkar and his supporters in the fold of Congress Party. The President of Goa Pradesh Congress Committee Girish Chodankar, Dharma Chodankar and others were present on the occasion.
Margao MLA Digambar Kamat congratulated Rajesh Verenkar for taking the step of joining Congress and said that his presence will help the party to strengthen further and also to reach Congress work to the Bahujan samaj.
Chodankar said that with the joining of Rajesh Verenkar, Congress block in Ponda has become stronger. "Rajesh Verenkar is known for his social work in Ponda. His joining in the Congress will definitely help us to achieve our goals and strengthen the work in Ponda taluka." Chodankar said.
He also said that the digital membership drive of Congress party is receiving tremendous support and many people are interested to join the party. "We are happy that people are reposing trust in us. People are demanding new and young faces in the party and hence their demands will be fulfilled. Many youth leaders are expected to join Congress in future and we are committed to nominate 70 to 80 per cent tickets to young and new faces." He said.
He said that BJP has only used Bahujan Samaj to gain votes and later disowned them. "I am happy that Rajesh Verenkar, who is from Bahujan Samaj, will help us create awareness about how BJP is misusing people from Bahujan Samaj." He said.
Chodankar said that Congress is committed to bring changes in the party, which people wish to bring. This is the high time that we follow agenda set by people to us.
To a question Chodankar said that, Ponda MLA Ravi Naik has always promoted youths in politics, how recently he promoted his sons and hence he is optimistic that latter will also promote Verenkar.
Speaking on the occasion Rajesh Verenkar praised the leadership of former Chief Minister Pratapsing Rane, Digambar Kamat and Girish Chodankar. "I feel happy to join the Congress party, not only because it is secular, but the leadership has vast experience and has always listened to the sentiments of the public. This is the reason I felt to join Congress after my supporters fostered me to take the decision." Verenkar said.
He said that Digambar Kamat had done splendid work in his tenure as chief minister of Goa and he feels proud for getting the opportunity to work under him.
"Congress has taken all the people, including Bahujan Samaj together and has always given 'people friendly government'. Congress never created fear in the minds of the public, however respected democracy. During the regimes of Congress, the state exchequer was in a good position." Verenkar said.
Comment