RAVI NAIK's Gharwapsi… Parrikar linked Naik and son to drug dealers, called him UNFIT but CM Sawant found him an ASSET
Goemkarponn desk
PANAJI: On Tuesday, the former Chief Minister of Goa resigned as a member of the Goa Legislative Assembly, resigned as a primary member of the Congress party and joined the ruling BJP in a grand function at Ponda.
Ravi has had a long political career starting from 1980, so this is his 41st year in active politics.
In these 41 years, Ravi has been in three parties – MGP, Congress and BJP.
Naik contested his first elections in 1980 on a Maharashtrawadi Gomantak Party ticket but lost. After quitting that party in 1991, he became the State's Chief Minister then and again in 1994.
He has been a member of the Goa Legislative Assembly since 1984, but not continuously. In 1990, he was part of the team which topped the then ruling Congress party, leading to internecine political instability that dominated much of that decade and more.
Besides chairing committees in the Goa Assembly, he has also been a cabinet minister at the regional (Goa) level holding—at different times—the portfolios of Agriculture, Animal Husbandry and Veterinary Services, Information & Publicity, Home, Town & Country Planning, Personnel, General Administration, Vigilance, Finance, PWD, Housing, Science and Technology and Printing & Stationary.
Naik lost the 2012 elections to Lavoo Mamledar of the Maharashtrawadi Gomantak Party.
In 1998, after a loss in local politics, he was elected to the Lok Sabha. In 1999, he took over as Leader of the Goa Opposition, and between 2000 and 2002 he was Deputy Chief Minister in the then Bharatiya Janata Party government in Goa.
He won the 2007 elections on an Indian National Congress ticket from the Ponda constituency, where a total of 24557 votes were polled. Naik received 9972 votes and won by a margin of 1656 votes. He also won the 2002 Assembly elections (Ponda, 1320 votes margin), and the 1989 elections (Madkai, 1651 votes margin).
Ravi Naik was elected again to the Goa Assembly in the state election of 2017, this time with a margin of 3000 votes.
He was a member of Goa's five-member Congress Legislative Party (CLP) and remained with the party during the two-thirds split in the CLP in 2019 where 10 MLAs defected to the ruling BJP.
Parrikar, Ravi Naik rivalry
Though Ravi Naik served as the Dy Chief Minister in the Manohar Parrikar government in 2002, their friendship was short-lived for a few months.
However, from 2009 to 2012, Manohar Parrikar was severely critical of Ravi Naik, the Home Minister then, be in the Scarlet rape and murder case or police-politician-drugs mafia nexus or any law and order situation.
While Naik made a re-entry into the BJP on Tuesday, one wonders whether that would have been possible if Parrikar was still alive, given the number of wild allegations made by the late CM against Naik.
However, the current lot in BJP does not seem to follow Parrikar's legacy, and Chief Minister Manohar Parrikar likes to work on his own terms and conditions.
Ironically, Parrikar had made serious allegations against Ravi Naik and his son. All of whom today are members of the BJP.
So here we bring to you some allegations made by Parrikar against Ravi and the readers may themselves whether Ravi Naik's entry into BJP was justified.
Goa home minister's son sheltered drug mafia: Parrikar
Linking Ravi Naik's son Roy to the Israeli drug mafia, then leader of opposition Manohar Parrikar had said that several Crime Branch officials were linked to the drug mafia and that the state director general of police (DGP) was a lameduck, incapable of taking action.
"Newspapers today have carried about Roy Naik's links to Israeli drug dealer Yaniv Benaim (alias Atala). It is clear now that there is a nexus. The CBI should probe Roy because he was having dealings with the drug mafia," Parrrikar said.
"Roy is not only Ravi Naik's son. But he is drawing a salary from the home ministry as an aide of the home minister. The home ministry office is under cloud in the drug nexus case," Parrikar said.
Ravi Naik Unfit as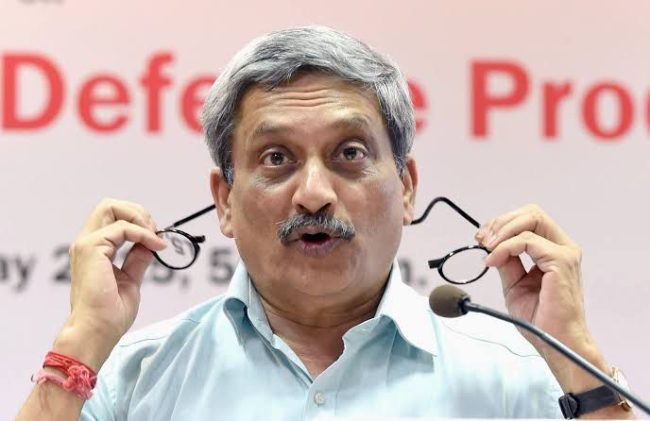 Goa's Home Minister: Parrikar
Levelling allegations against State Home Minister Ravi Naik of protecting drug parties, Manohar Parrikar hadsaid that the Minister is unfit for the post.
"I want that the Minister should quit but I know that Chief Minister Digamber Kamat would never ask him to step down. The Minister is unfit for the portfolio," Parrikar had said while briefing media.
"I want to know who was bribed to get the protection? Who was given kickback to allow drug party in Goa?," he said.
The BJP leader was referring to death of a 23-year-old Delhi girl, Meha Bahuguna, who was transported to private hospital here in a restless condition on December 29 from Sunburn Music Festival at Candolim beach. The girl expired at the hospital next morning.
"Home Minister's interference indicates that he had an interest in protecting someone," the leader of opposition said.
The Home Minister has become a matter of joke in the country thanks to his vague statements, Parrikar said.
Parrikar launches probe role of former Min's son in drugs case
Goa Chief Minister Manohar Parrikar in 2012 assured formation of House Committee to investigate the allegations of nexus with drug peddlers against Roy Naik, son of former state Home Minister Ravi Naik.
The chief Minister said several members of the Assembly have "inputs" about Roy's reported involvement in the drug nexus and in demanding protection money, when his father was the Home Minister.
Agreeing to the apprehensions raised by the members, Parrikar said during his stint as Leader of Opposition, he had raised the issue on the floor of the House, which remained unanswered due to the frequent absence of the then Home Minister in the Assembly.
"All these aspects, including the surety to Atala, would be investigated by the House Committee," he said.
Once the House Committee submits its report, it would be further probed by a police officer, who will file a chargesheet into it, he had said.
Comment