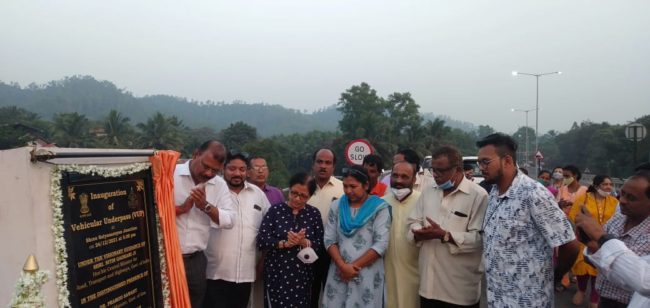 Goemkarponn desk
PONDA: New proposed Borim bridge got Rs.420 crore funds. Rs 320 crores worth work of two towers foundation at Zuari bridge, would soon be laid, said PWD minister Deepak Pauskar.
During the inaugural function in Dhavlim of an Underpass/ Flyover work. PWD minister listed out a series of National Highway works that would be inaugurated at the hands of Union Minister Nitin Gadkari on January 3, 2022.
Pauskar informed that Rs.420 Crore has been sanctioned for the new proposed Borim Bridge. Similarly, a foundation for two towards Zuari Bridge would cost around Rs 320 Crore.
"One towar would have a hotel while another would have a muthat will display thesplay history of Goaalso promote tourism in Goa," he said.
This project would be constructed and operate on PPP mode, he added.
He further informed the gathering that Union Minister of Road Transport and Highways, Nitin Gadkari, will inaugurate various National Highway works completed in Goa on January 3 2022. Gadkari would also lay the foundation stone of new works. The Union Government has sanctioned Rs 420 crore for the new Borim Bridge. The ramp/approach road work of the incomplete Khandepar four-lane bridge would start in the next fifteen days and is likely to complete in eight months.
PWD minister said the Patradevi to GMC is 43 km distance, out of which 34 km road work is completed. As per suggestions of the local's proposal to construct 6-meter elevated bridge road work has been sent to National Highways. The work at Porvorim got delayed as some locals had approached the court on the issue. He said the foundation was laid for Mopa Expressway, sanctioning Rs 1186 Crore.
Furnishing more details on the new Zuari bridgework, Pauskar said fabrication work on the Zuari bridge is pending. He said GMC to Verna is 13 km distance out of which 10.5 km road work at this stretch is completed, and the rest 2.5 km would be complete after two months. Similarly, Varunapuri to Sada is a 7.6 km distance, and out of which 5.2 km road stretch work has been completed. The government would soon open the port connectivity.
Similarly, Western Bypass road work at Navelim would be completed soon. He said that out of a 9 km distance, 5.7 km work is completed.
The elevated bridge would be provided for a 2.7 km distance. Similarly, wholesale fish market to Railway overbridge 1 km elevated bridge would be provided.
Lastly, he also added that the Government would go for four-lane work of Chorla Ghat and Anmod Ghat after getting clearance from the Forest Department. Pauskar assured that the Ponda STP would be operational from January 25 2022.
Comment