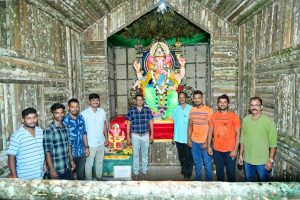 Goemkarponn desk
PANAJI: Directorate of Art and Culture had organized Dekhava Competition for Sarvajanik Ganeshutsav Mandals in Goa.
The contest is organised with an objective to preserve and promote age old traditions and provide a platform for the creative talents in Goa, this year total 18 Sarvajanik Ganeshutsav Mandals had participated in the Dekhava competition.
The State level Dekhava Competition Result- 2023 winners are 1st Prize (Rs.35,000/-) –Sarvajanik Ganeshutsav Mandal, Casarvarnem, Pernem– Goa, 2nd Prize (Rs.30,000/-)Sarvajanik Ganesh Mandal, Tudav, Netravali, Sanguem- Goa, 3rd Prize (Rs 25, 000/-) Shantadurga Kala Krida Sangh, Non-Mon, Vasco – Goa, 4thPrize (Rs 20,000/-) Yuva Panaji, Mala, Panaji – Goa, 5th Prize (Rs 15,000/-) Goa Reserve Police, Altinho, Panaji – Goa.
The winners of 5 consolation prizes of Rs. 10,000/- each are 1st Consolation- Sarvajanik Shree Ganesh Utsav Mandal, Cusmane, Quepem- Goa, 2nd Consolation Collem Police Station, Collem – Goa, 3rd Consolation – Mopa Airport Police Station, Mopa, Pernem- Goa, 4th Consolation – Morji Sarvajanik Ganesh Utsav Vishist Mandal, Morjim, Pernem – Goa and 5th Consolation Sarvajanik Ganeshutsav Mandal, Harmal, Pernem –Goa.
Shri Deepak Gaad, Shri Swapnesh Vaigankar and Shri Vijay Bhandare judged the Dekhava competition.
The Winners of the Dekhava Competition will be awarded certificates and cash prizes (ECS Mode) at special function to be organized by Directorate of Art & Culture which will be informed to the winners well in advance.
Comment