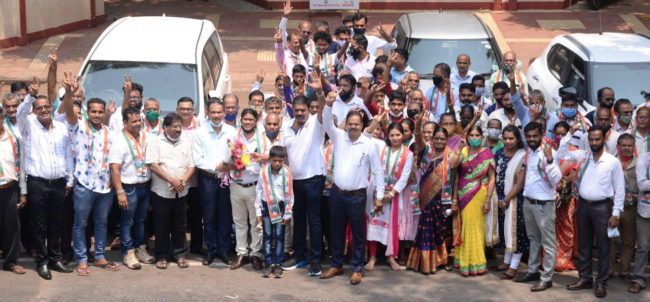 PANAJI: The former journalist and multifaceted person Mahadev Khandekar from Kudne-Sanquelim on Saturday joined Congress party, claiming democracy is under threat and there is a need for a new vision to steer the state and country.
The President of Goa Pradesh Congress Committee Girish Chodankar welcomed Mr. Khandekar and his supporters in Congress. Congress Vice Presidents Sankalp Amonkar and Dharma Chodankar, District President Vijay Bhike, Sanquelim Block President Mangaldas Naik, PCC Secretary Nilkant Gawas, Ramesh Sinari Chairman Congress Mining Cell and others were present on the occasion. The function was held in Congress House-Panaji.
Chodankar said that Congress is receiving tremendous support from people and the joining of Mr. Khandekar will send a strong message that people from vivid fields are interested to join Congress. "Journalist fraternity has wider wisdom. Khandekar being from this field and having experience of 25 years knows how BJP has ruined Goa and also knows that Congress is coming to power." Chodankar said.
He said that Khandekar's contribution in journalism and as an artist, he is connected with society and this will help Congress to grow.
Chodankar said that people from Sanquelim constituency, represented by Chief Minister Pramod Sawant, are expressing anger against MLA and BJP government for doing nothing. "People from Sanquelim had aspirations that Pramod Sawant will do some development and create jobs. But he failed to do so and even couldn't resume the mining operation, which was closed down by his boss and then chief Minister Manohar Parrikar." Chodankar said.
"Development is missing in Sanquelim, hence people are searching for it. They have now built a mindset to defeat Pramod Sawant and BJP." Chodankar said.
"Chief Minister Pramod Sawant is so insecure, that he has resorted to 'dadagiri' whenever a new leader starts the work in Sanquelim. But now there is a wave against him and definitely people of Sankhali will make him Laxmikant Parsekar." Chodankar said.
He said that the defeat of Pramod Sawant's supported candidate in the Sanquelim Municipal election has given a clear signal that he will be sent home in the next assembly election.
"Pramod Sawant is misusing his power to finish opposition, but he will not get success in it. Instead his political career will get finished very soon." Chodankar said.
He said Khandekar's experience of journalism will be used by the party organisation.
Khandekar said that he feels proud to join Congress as it is party having values of non-violence, truth, respect to democracy, respect to rights of people and taking people together on the way of progress.
"Politicians should respect their voters, who push them to victory and take everyone together." He opined.
He said that the economy of Goa has collapsed and unemployment is increasing. "To overcome this situation we need new vision." Khandekar said and added that he will use his 'political maturity' to strengthen the Congress.
PCC Secretary Nilkant Gawas while welcoming Khandekar said Khandekar has made inroads into CM's strong hold Kudne and many BJP workers are joining congress. He said, today many of BJP's hardcore supporters and booth leaders joined congress.
District President Vijay Bhike said, Khandekar's joining will help ongoing membership drive in Sanquelim.
Comment