A serving Govt employee, Dr Uday Gaunker, close to Tribal Minister Govind Gaude, writes in his book "FOR EACH GOVERNMENT JOB, ONE HAS TO PAY MINIMUM FIVE TO SIX LAKH RUPEES."
The Book is supposed to be on blazing tribal history creates "blazing controversies."
The Book, supported by Gaude, indicates cracks in relationship between him and BJP
Goemkarponn desk
PANAJI:
For the first time in the history of Goa, a serving Government employee, a deputy director in the Education department in his book "UTAA Sangharsha" written by Dr Uday Gaunker, a wellDrown writer, Educationist and social activist, has indirectly indicted the State government and ministers saying "for every job candidates have to pay five to six lakhs."
The book was to be released in the hands of Chief Minister, Dr. Pramod Sawant," but CM could not make it for teh function and instead it was released by Tribal Minister Govind Gaude in presence of Congress MLA Ravi Naik.
The Book released on the name of UTTA in the show of strength programme is critical on BJP, which tells lots of "in-between lines" for CM skipping the book release function.
The book controversies…
Frist controversial statement:
In the first line of the second paragraph on page no. 357 of the book "Utta Sangharsh" says, "Though you got the free job due to reservation, it requires you to pay minimum five to six lakh rupees for each Government Job".
Through this statement, author Dr Uday Chepo Gaonkar, despite being Gazetted Officer, openly makes allegations that corruption takes place in government job recruitment.
Gazetted officers will not make such allegations unless he has proof for the same or he is part of such corruption.
Now onus also comes on Tribal Minister Govind Gaude. If he does not condemn this statement in books, it will imply that he endorses the author's view and indirectly supports similar claims made by the Opposition party from time to time.
Second controversial statement: 
In the first line of the third paragraph on page no. 357 of same, which refers Mr. Ramesh Tavadkar as "Retired MLA".
This is yet another most irresponsible statement as Ramesh Tavadkar is still active in politics.
He can be referred to as "Retired Politicians" only after declaring that he has taken retirement from active politics.
Currently, Ramesh Tavadkar is Chairman of Goa Commission for SC /ST, a very respected quaci judicial position.
He can very well resign from this post and contest the election after he gets a BJP ticket. The irresponsible comment has raised sharped reactions to tribal social media groups.
One such Collector cadre level ST officer with the first name "Shankar" suggested for stay order to sell books till rectifications are done where another ST officer in similar cadre with the first name "Ajay" terms the author Dr. Uday Gaonker as "a selfish man selling wrong things about ST community in Goa".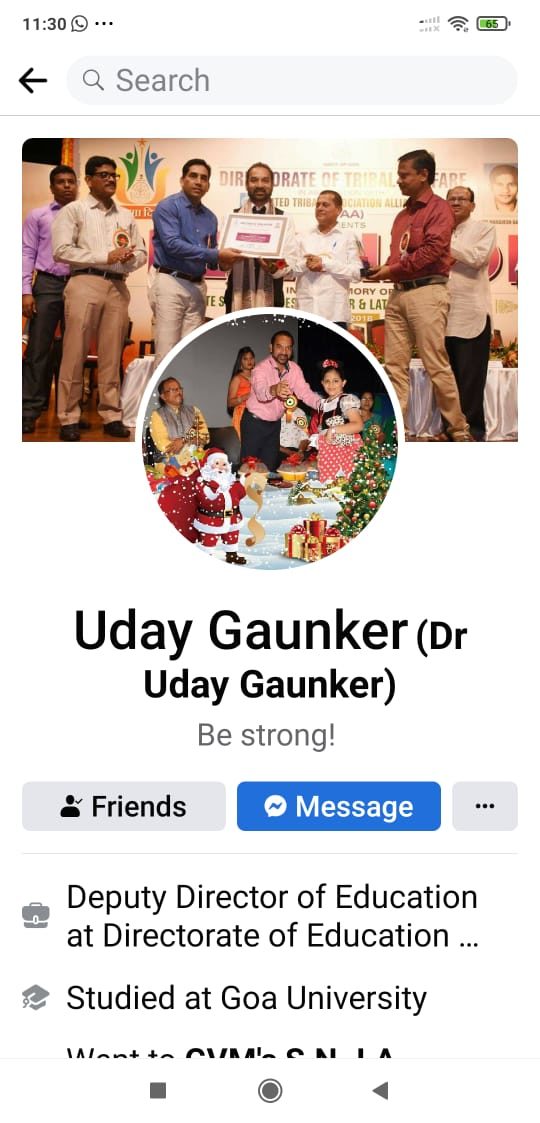 Third controversial statement: 
In the third paragraph, page no. 360 (second-page chapter 57 with the title 'Ramesh Tavadkar as Minister in 2012').
In this paragraph, the author makes an open allegation against BJP that it has BJP who separated Ramesh Tavadkar from UTTA and the party was responsible for his defeat.
He claims that BJP intentionally left Ramesh Tavadkar (as minister of that time) lose and later trapped him. Before doing that, they isolated him from UTTA, so that strength of both is reduced.
This grave allegation was made by a gazetted officer against the ruling BJP party.
It will be interesting to know how Ramesh Tavadkar reacts to this statement in books and the BJP party.
The rules for Govt employees…
Why comment in Book on Government is significant:-
Otherwise, the views expressed in a book are taken as an opinion expressed by authors/s under freedom of speech.
Here the case is different. The author is not an ordinary man holding a Special Secretary post of an ST association called UTTA. He holds a responsible Group B Gazetted government Officer position in the Department of Education, Government of Goa. Presently he is Deputy Director of the Directorate of Education.
Hence, it can be presumed that whatever statements he makes against the Government in the public domain are sensible and authentic.
Otherwise, he attracts violation of government service rule under CENTRAL CIVIL SERVICES (CONDUCT) RULES, 1964 (Read Rule no. 9 on criticism of the Government.
Criticism of Government:- No Government servant shall, in any radio broadcast, telecast through any electronic media or in any document published in his own name or anonymously, pseudonymously or in the name of any other person or in any communication to the press or in any public utterance, make any statement of fact or opinion: – 
(i) which has the effect of an adverse criticism of any current or recent policy or action of the Central Government or a State Government 
(ii) which is capable of embarrassing the relations between the Central Government and the Government of any State; or 
(iii) which is capable of embarrassing the relations between the Central Government and the Government of any foreign State; Provided that nothing in this rule shall apply to any statements made or views expressed by a Government servant in his official capacity or in the due performance of the duties assigned to him.)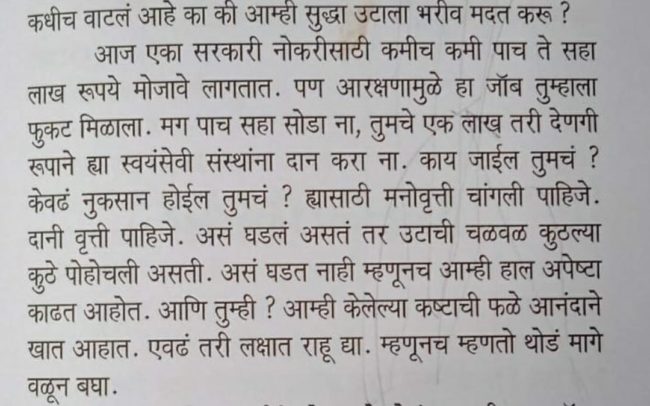 Gaude's involvement in publication…
The buck does not stop only with the author.
Though the Book is published by the wife of author Mrs Devika Uday Gaonkar under the banner of Yash Publication, the Book is financially sponsored by UTTA, where Tribal Minister himself is Convenor.
Besides, the author has declared that this Book is encouraged and supported by tribal minister Govind Gaude in the preface.
Some say that Govind Gaude has fired a salvo against BJP leaders through the shoulders of Dr Uday Chepo Gaunker.
Political ramifications:- 
This function was part 3rd Adivasi Vidyartthy Parishad, where ST youths were called in large numbers.
Tribal Minister Gaude declared that MLA Ravi Naik is his "Guru in Politics" in this function.
The skip by CM for function otherwise can be taken lightly as he was busy with the "Sarkar Tumachy Daari" programme at Curchorem on the same day.
Now hindsight, it opens pandora box of developing cracks in the relationship between BJP and Tribal Minster.
Ravi Govind (teacher disciple duo) had earlier declared willingness to join BJP, but with political developments, later on, both are kept mum on joining to BJP.
Comment