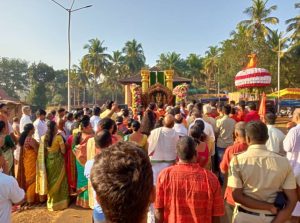 Goemkarponn desk
CANACONA: Amidst the chants of Shree-Ram Shree-Ram, Jai Jai Ram, Shree Ram Rath Yatra has been taken since early Wednesday morning leading to the various temples in Canacona.
As early as 7 am, the Idol of Shree Ram was placed in the specially decorated Rath after a brief Pooja at the auspicious hands of Partagal Swami Maharaj, soon after beginning the Yatra from Partagal Math.
Having made the entire arrangements by Shree Ram Rath Yatra Ayojan Samithi Canacona for holding the Yatra smoothly, from Partagal, the Yatra headed to the South, visiting Shree Parshuram Temple and Shree Laxami Narayan Temple at Poinguinim.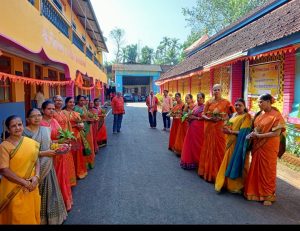 The Yatra then went to the South and visited Shree Nirakar Temple at Maxem and thereafter came to Shree Keshav Damodar Temple Loliem.
The Yatra was ceremoniously brought to Shree Vithal Ramkhumai Temple at Rajbag- Tarir in Canacona, than to
Shree Devghi Purush Temple at Patnem, and 11:45 am, was already heading towards Shree Agondeshwar Temple Agonda. The Yatra was taken to Shree Vithal Rakhumai Temple Dhavalkhazan Agonda before arriving at the
 Aarti and Mahaprasad at Shree Lakhaneshwar Temple Mudkud Agonda. The lunch is taken in Agonda.
Later in the afternoon, the Yatra will proceed to Shree Bhumipurush temple Gulem, after that to Shree Maruthi Temple Chaudi, Shree Mallikarjun Temple Shristhal and finally, by 6, the Yatra is expected to arrive at Partagali Math, Partagal.

Incidentally, some of the roads on which the Rath -Yatra was taken and the entrances of the respective temples were decorated with flowers and pictures of Shree Ram.
In most temples, the Ram Rath was received by Aarti, reciting women troupes.
Devotees on Motorcycles, Cars, Jeeps and other modes of transport accompanied the RamRath Yatra while police, including the traffic cell, provided necessary cover with the hold the Yatra with peace and devotion.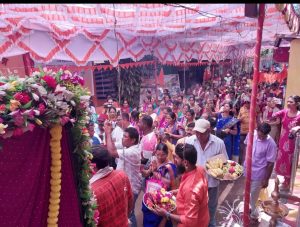 Comment