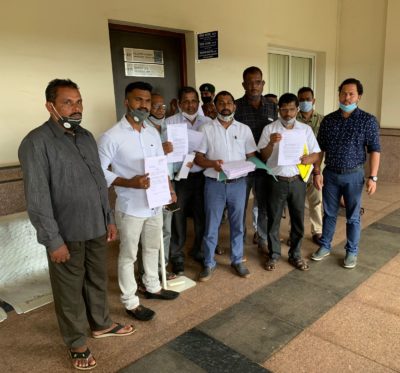 Goemkarponn desk
CANACONA: The Gawada, Kunbi, Velip and Dhangar Federation (GAKUVED), and 343 Cumeri Cultivators of Gaondongrem & Cola, have petitioned the Chief Minister Dr Pramod Sawant to issue SANAD to the Cultivators who are the sole occupant of this land.
They also threatened that if their demands were not met in 30 days, they would launch a protest against the Government.
"We bring to your notice that the CUMERI land of above survey numbers of Government of Goa, Daman and Diu was distributed /allotted to the CUMERI Cultivators(detailed list enclosed as Annexure – A) in the year 1964 by Committee consisting of Mamlatdar of concerned taluka, Block Development Officer and Range Forest officer for raising Cashew Cultivation, mango, Jackfruits etc. and other agricultural Cultivation. The cultivators are now in possession of allotted land and their Cultivation, which is their livelihood," the petition read.
From the facts, inquiries, verifications and final reports given by Mamlathdar and deputy collector, it is crystal clear that the Cumeri Cultivators are the occupant of the said land, they said.
"Hence we request you to issue SANAD to all the pending Cases of Cumeri land cultivators of Gaondongrem for Survey no. 115/0,42/0,126/0,6/0,59/1,26/0,3/0 of Gaondongrem Village & Survey no. 402/1 & 244 of Cola Village," they said.
"The Gawada Kunbi Velip Dhangar Federation (GAKUVED) hereby protests and resists this infringement of the fundamental rights of our community members. If no. immediate action is taken preferably within 30 days, we will protest against the authorities & Government to achieve our rightful demands," they said.
Process completed by Government to distribute/
allocate the occupancy rights to the cultivators
1) Applications for the grant of Govt. land under Rule 17(2)of Goa Daman and Diu land Revenue (Disposal of Govt. Lands) Rule 1971 were submitted to the Collector of South Goa Margao through Mamlatdar of Canacona Taluka in Nov. 1988
2) Detailed report regarding the grant of Govt. land for agricultural purposes was proposed by Mamlatdar of Canacona in Dec.1988.
3) Form for seeking prior approval under section 2 of the proposal by the state govt. (Rule 4)& other authorities were also filled by Mamlatdar and authorised by Deputy Collector Revenue South Goa, Margao.
4) Individual Survey plan prepared by Govt. of Goa, Directorate of Land Survey by marking area of cultivators for granting occupancy rights.
5) In November 2004, 'Special Officers Team' (Cumeri Cultivators cases) consisting of Mamlatdar, B.D.O. and R.F.O. under Forest Conservation Act, 1980 in South Goa District was formed. The Special Officers Team (S.O.T.) visited the respective V.P. office & site of the land to verify the physical features/Cultivation in said land of each cultivator to enumerate that the Cultivation existing in the land conducted necessary enquiries for the purpose of regularisation.
6) In Dec.2004, the statement of applicants/cultivators were recorded before Dy. Collector(L.A.) S.O.T. South Goa, Margao stating that the Cultivators have been in possession of the land since 1964 and it was allotted by Committee consisting of Mamlatdar, B.D.O. & R.F.O. as per the Government instruction before the enforcement of Forest Conservation Act, 1980 and that since the land is allotted and plantation has already been done by them since 1964, the ground may be granted to them.
7) Survey plans were traced, showing the plots granted on occupancy rights in Government land for each cultivator.
8) Special Officer team (Cumeri Cultivators cases) again visited in January 2007 to V.P. office and site to verify the physical features, Cultivation in the said land, and ascertain that land applied for occupancy is for Cultivation thereafter inquiry was conducted for regularisation purpose.
9) S.O.T. again visited Village Panchayat and site in August 2009 to verify the demarcation and carry out enumeration of Cultivation existing in the plot through outsourcing agency.
10) Final note /report made by Mamlatdar and which is authorised by Deputy Collector which states that' land in question was distributed/allotted to Cultivators in year 1964by Committee consisting of Mamlatdar of Taluka, Block Development Officer and Range forest officer for raising Cashew cultivation & other Cultivation who is now in the enjoyment of allotted land and trees cultivated by him are now yielding fruits. The Occupancy price from the allottees will be recovered as and when the grant of land will be issued by the collector.
Comment