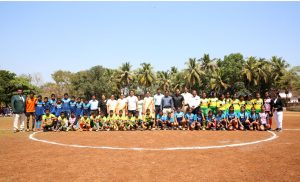 Panaji: Outdoor and physical activity is essential for our overall well-being, said Sports Minister Govind Gaude at the inaugural function of Goa Football Development Council (GFDC)'s new centre at Bethany Convent High School ground, Sao Jose de Areal on Friday.
Gaude was the Chief Guest while Velim MLA Cruz Silva was the Guest of Honour.
The Minister said that football is the most loved sport in the world and expressed happiness over the inauguration of the new centre.
Speaking to the students, he urged them to focus on outdoor activities for their overall well-being.
"We need to maintain our physique and mental balance. It is very important. If you wish to rise to greater heights in life. In the olden days, students would work in the fields or indulge in hard, physical work. What is the use of wealth if your health is not sound? It is important for students to come on the ground at least for two hours and exercise so that we can remain active throughout the day. If we rest, we are going to 'rust', and then we won't get that spark for our brains," he told the students.
Emphasizing that sports is one of the most important fields students need to focus on, he said that passion and perseverance are also key for excellence in life.
"Passion with positive energy is essential to achieve anything in life. We need to identify a field that we are passionate about. Perseverance is also vital. We need to practice and prepare our mindset. Practice will lead to excellence, and this will allow you to perform at the highest level. Stand by your principles. There is no compromise on this. Things will go wrong, and you will not achieve the milestone and success that you have set as your target. We all have the capabilities and qualities within ourselves. Diamonds are expensive because it takes immense effort to convert a rough stone into a gem. it is the hardest substance on earth, and processing requires a lot of skill and technical ability to give it the desired shape and sparkle," he added.
In his speech, Silva said that he was pleased with GFDC opening the new centre and assured of his full support for the centre.
He said that in the past, players would find it difficult to find a team due to intense competition, and hence they had to opt for outstation teams, which is not the case today.
Expressing happiness, GFDC Chairman Brahmanand Shankhwalkar stated that the centre has finally been opened after almost 4 years, and congratulated Bethany CHS and Salcete Football Club members for making this a reality.
He ensured full support in terms of equipment and coaching kits as well as proper training, and in return sought children's active participation and parent's encouragement.
"By doing this, we will get stars for the state and country," he added.
The new centre will have 60 plus trainee students enrolled and is expected to boost grassroots football in the village as well as the state.
Last year, GFDC celebrated the 10th anniversary of its inception.
Also present at the function was the GFDC Member Secretary, Deepesh Priolkar; School Headmistress, Sr. Mary Flavia D'Souza and Manager Sr Ida Lobo. GFDC Council Members Shantaram Naik and Valente Fernandes, Salcete football club members, Armando Colaco, Albert Colaco and Agnel Fernandes were also present also graced the occasion.
Comment