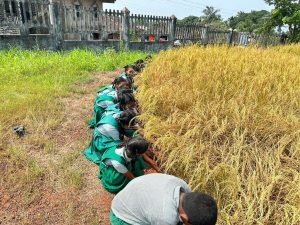 Goemkarponn desk
CANACONA: Cultivated and sowed in June, Students and Staff of Government High School (GHS) Gaval-Khola harvested the paddy crop in the school compound.
The students who cut the paddy with the sickle in their hands were further assisted by school staff to carry out the harvesting process of the paddy crop.
The proud Headmistress of GHS Gaval-Khola Gautami S. Dessai informed that the Government High School Gaval Khol in Canacona taluka carried out Paddy cultivation activity, which began in June 2023 and is now completed in October 2023.
'The entire paddy crop cultivation process including the encompassed land preparation, the ploughing, land-levelling, Seed selection and Sowing, transplantation, harvesting, thrashing, and winnowing is carried out by the students, ably assisted by a willing staff of our school'.
Most of the 143 students, all the teaching and non-teaching staff and more importantly parents (many of whom are traditional farmers/cultivators) of GHS Gaval Khola took an active part in the paddy cultivation process.
The students under the guidance of teachers, even carried out watering at the required time, adding fertilizer, cleaning and removing the weeds amongst other necessities.
'This extra educational activity not only taught the students about the different stages of paddy cultivation but also provided hands-on experience in farming, but also helping them to understand the importance of agriculture for food production.', HM added.
Incidentally, the traditional farmers of this area have been doing the work of prioritizing ancient agricultural practices, particularly in the Gaval area of Khola Panchayat. The farmers of this area are paying attention to the cultivation of rice which is cultivated using the various traditional methods. Following the footsteps of these traditional farmers, the government school at Gaval, Khola has tried to attract the new generation to agriculture and provide excellent lessons on traditional agriculture.
Comment