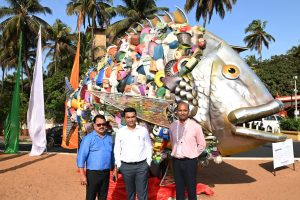 PANAJI: World Environment Day is observed annually on June 5 to raise awareness about environmental protection and sustainability. To mark the 50th World Environment Day, and as the G20 meetings under the Indian Presidency in 2023 are focussed on the theme, "Vasudhaiva Kutumbakam" which translates to, "One Earth, One Family, One Future," an art installation of a fish, 'The Plastic Pallu', was inaugurated at Miramar beach.
This larger-than-life sculpture that portrays a magnificent fish, crafted entirely from discarded plastic waste, was inaugurated by Dr Pramod Sawant, Chief Minister of Goa and Sanjit Rodrigues, Nodal Officer G20.
A closer look at the fish and every detail— from its scales to its fin, has been meticulously constructed using various types of single-use plastics, such as bottles, bags and packaging materials.
Dr. Pramod Sawant, Chief Minister, said: "Plastic waste poses a severe threat to marine ecosystems, leading to entanglement, ingestion, and habitat destruction. By showcasing the magnitude of this problem, we hope to inspire individuals and communities to take collective action."
Sanjit Rodrigues, Nodal Officer G20, said: "It's time to embrace sustainable alternatives, like choosing reusable bags, bottles, and containers, supporting recycling initiatives and spreading awareness about the consequences of plastic pollution."
The installation, an awe-inspiring one, serves as a stark reminder of the detrimental effects of plastic pollution on marine life and our planet's biodiversity.
The colours and textures of the different plastics used showcase the diversity of pollutants and their lasting impact on our environment.
'The Plastic Pallu' is a powerful visual metaphor to urge people to say no to plastic pollution and be part of the much-needed change.
Together, let's strive for a future where our oceans are free from plastic waste, ensuring the preservation of marine life and the well-being of our planet.
World Environment Day 2023 marks the completion of 50 years of its establishment. This year the theme of this year is 'Beat Plastic Pollution'. It highlights people's actions towards the reduction of plastic pollution. It also encourages individuals, governments and international bodies to prioritise eco-friendly practices for greener work and the protection of the environment.
Comment