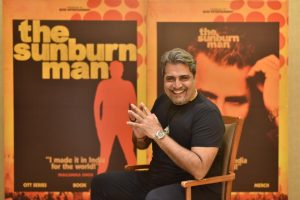 The Serial Creative Entrepreneur is ready to tell the human story behind how he put India on the global music tourism map.
Goemkarponn desk
PANAJI: The Founder of Percept Ltd and Sunburn, Shailendra Singh's book, 'The True Story of Sunburn' and pan-India, university speaking tour have helped to archive the pride-ofIndia, music festival brand for the next generation. He even created a feature film, Sunshine Music Tours and Travel (2016), debuting Sunny Kaushal and based on the real life story of one fan that travelled from Shimla to attend the festival. Now – to mark the auspicious date of his birthday and the start of Navratri – Shailendra Singh announces that he's ready to tell the real, authentic, human story of the trials and tribulations, surprises and successes, which went into converting his ambitious dream into a reality – in a brand new OTT streaming series, book and a line of merchandise, called 'The Sunburn Man'. Shailendra's current mission is to tell inspiring stories – from India, for the world – and the story of how Sunburn was built, can inspire a new generation of creative entrepreneurs. Shailendra is making the announcement, for the very first time, from his beloved Goa – a place very special in his heart. Goa was where he shot his very first ad film, his first feature film and launched his first music festival. In 2007, with Sunburn was a small, but disruptive, experiment on a Candolim Beach. By 2014, it was the 3rd largest dance music festival in the world, servicing over 160,000 fans and boosting the valuation of electronic music in Asia-Pacific to $950m (15% of the global valuation of $6.2bn). After I.P.L, Sunburn was India's second-ever intellectual property (IP) to be exported from India and put India on the global music tourism map. This creative and commercial success can all be attributed to the vision, dedication and determination of one man – Shailendra Singh.
Shailendra Singh had a very lofty goal when he incepted Sunburn – he wanted to unite India's youth, 600 million under the age of 25, through music and dance. At the turn of the century, when the only choices for entertainment were cricket, shopping malls and movies, Shailendra wanted to diversify Percept's extensive B2B market dominance, to B2C offerings with a twist – making the world a better place. "I have said from the start," says Shailendra, "that Sunburn has the power to make a social difference. I was inspired by Nelson Mandela, who said that 'sport has the power to change the world'. I felt so much truth in that, and I knew it was possible to unite the new, young India in peace, love and harmony. I kept it a day party, a respectable 11:00am – 9:59pm, a place for youth to meet old friends, make new ones and celebrate the beauty of being alive through music and dance." From the teenager who learnt about the uniting power of electronic music at dance parties in the jungles of Goa, to becoming the only Indian ever ranked on the 50 Most Powerful People in EDM list (inthemix, 2014), Shailendra Singh carried Sunburn through the 26/11 Mumbai Attacks, the death of his beloved father, the illegal and unsuccessful attempts by a competitor to shut the festival down, and so much more. "Sunburn only broke even in year five," says Shailendra. "It takes a lot of guts to be able to everyday, wake up, face the challenges and work to achieve your dream. But the rewards are incredible. When young professionals, or DJs, or artists approach, show me their 'Live, Love, Dance' tattoos, and tell me how Sunburn taught them to open up their hearts and chase their dreams, I know that it was all worth it. This is not just my story, this is not just Sunburn's story, this a story of Indians, by India, for the world. When asked about his future plans regarding the Sunburn Festival itself, Shailendra laughs, "I've moved on to other creative pursuits, mainly in the film and storytelling space. I will always be proud of Sunburn, but my big dream right now, is to see a million more intellectual properties like Sunburn, be born and realized by the new, young India." Shailendra expects to release 'The Sunburn Man' book and merchandise line in mid-2024, with OTT series following in 2025.
Comment