Though traditional a Cong BASTION, party has to sweat it out in Salcete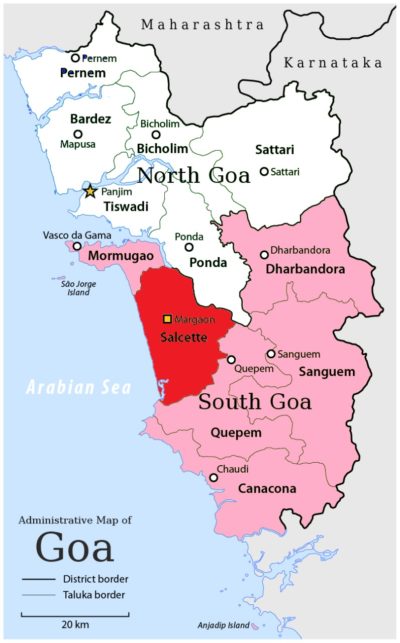 GAURANG PRABHU/ Goemkarponn
MARGAO: Salcete is known as the powerhouse of Congress. In 2017 congress won 6 out of 8 seats, one went to Goa forward, and one went to NCP.
Congress lost in Benaulim and Fatorda and won Cuncolim, Velim, Navelim, Margao, Nuvem and Curtorim. However, the situation is changed now, three MLAs from Salscet joined BJP, and recently the senior Congress leader and Navelim veteran strongman Luizinho Faleiro joined the TMC, which is considered as a major shock to Congress.
If Congress is to form the next government in Goa post-2022 elections, all hopes of Congress wrest on the result of Salcete.
Congress has begun connecting to people and workers.
They have started taking meetings, but it's not easy to win the elections as many have left the party recently, and the newly inducted are opposed by the ones who kept the party flag flying after the exit of leaders like Filip Neri Rodrigues, Wilfred D'Sa and Clafacio Dias etc.
Congress state leadership still feels they will easily win Salcete as people stand by them to take revenge on defectors, but the ground situation is different.
Many new parties have come and are doing groundwork like AAP does in every constituency, reaching out personally to voters.
Cuncolim
Cuncolim is a strong point of Congress. There are two aspirants in the Congress party – former Minister's son Yuri Alemao who joined Congress from Goa Forward and successfully formed a panel in Cuncolim municipality by getting nearly 8 out of 11 councillors elected. Another is the recently inducted Elvis Gomes. Both are trying best to get a ticket.
Velim
Velim is considered as the pocket of the Congress party. Still, after the exit of Filipe Neri Rodrigues, Congress was on blackfoot. Velim sarpanch Savio D'Silva took responsibility and kept the Congress flag flying. He, along with other Congress workers and his team, successfully won the ZP seat. However, the drama started after Congress leaders gave a green signal to ex-MLA Benjamin silva to enter the party; All the congress workers, including Zilla panchayat member, have threatened to resign if the ticket was given to Benjamin Silva, so the party had to do a big circus to stop the spill in the party.
Navelim
Navelim is also a traditional Congress constituency. Luizinho Faleiro represented the Navelim for a long time and has successfully kept reasonable control over the constituency. After his exit, there was no second line for Congress, so the congress party roped in the former Minister Averton Fortado in the party. After getting elected and enjoying the ministry, Avertano lost in Navelim to Luizinho Faleiro (Congress) badly in the last 2017 elections.
Avertano has to do the better groundwork to regain the seat of Navelim. The recently held Zilla elections have shown that AAP has created good ground in Navelim.
Congress got two major set back in Navelim; one was after the Zilla panchayat election when Congress Zilla panchayat Navelim candidate and vocal Mahila leader Pratima Cuthinho left the party the second was the most shocking ever for Congress when Luizinho Faleiro left the party and joined TMC. Luizinho was considered one of the loyalists of the Gandhi family sources also says that TMC is all set to rope Navelim independent Zilla panchayat member Edwin Cardozo, which will create more difficulties for Congress as Luizinho has more control over constituency.
Margao
Till the time Digambar Kamat is in Congress, the Margao seat is with Congress. Digambar has kept total control and seen that no second-line leadership is developed.
Benaulim
Time and again, Churchill Alemao has made the football of Congress in Benaulim. He also made sure that no young leader took over and shifted his gears of politics.
But now, many have joined Congress.
The recently held Zilla election Congress candidate Royals Fernandes was on the second position putting NCP candidate to 3rd position.
Royala is considered one of the aspirants for Congress ticket, including the newly inducted former Minister Micky Pacheco, who declared himself a Congress candidate for upcoming polls in a press conference.
Few other workers are trying for tickets in Benaulim.
Curtorim
Curtorim is one of the constituencies where the hand symbol has importance and value too. That's the reason three times MLA Alex Reginald stayed in the Congress party. After creating a lot of confusion of leaving the Congress and joining hands with AAP.
All the drama was created just to bargain with Congress party leadership, which did not give importance to the state's Reginald. In Curtorim, ex-ZP and close associate of Girish Chodankar Morino Revelo is also eyeing a Congress ticket, but the recently held drama has dented his hope.
Fatorda
Fatorda was the strong point of Congress and now considered the week part of Salcete for Congress. the main thing is there is a lack of leadership in Fatorda and no face for the party.
AAP spreading its wings in Salcete
AAP is growing and spreading its wings with every passing day.
AAP has shown the same by scoring good votes and winning the Benaulim ZP seat. AAP has come as a good option in front of voters and doing good groundwork connecting with voters.
AAP volunteers have done well during a pandemic and started different activities distributing oxi-meters and distributed ration to need during the pandemic.
AAP and the image of Arvind Kejriwal can make a lot of difference in Salcete.
Comment