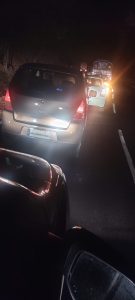 Goemkarponn Desk
CANACONA: Traffic snarls continue to haunt the highway motorists at the accident-prone Karmalghat.
Highway Traffic was disrupted atleast twice late thursdya night at the Gulem – Karmalghat sections, resulting in long queues.
While a half-an hour got the traffic halted at the foot of Karmalghat early Thursday night, an almost 2 hours traffic snarl at the accirdent –prone sharp turn on Karmalghat got the motorists weary taking them through the midnight.
According to sources, a vehicle broke-down just before the sharp –turn on Canacona side of the Karmalghat while climbing the ghat, and no traffic could pas on either sides for well over an hour.
A long queue of highway motorists, with many locals were caught in the traffic snarl, and only after the broke-down vehicle was manually moved across the extreme right of the road, to make way for traffic to either sides one-at-a-time.
The traffic snarl which began at about 11.30 on Thursday night continued till 1.30 am of Friday.
The broked-down mini-carrier was finally moved away only Friday morning, informed sources.
Comment