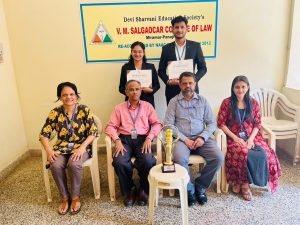 HYDERABAD: The University College of Law, Osmania University, Hyderabad, successfully organized the fourth edition of "Justitia," a national-level Moot Court and Client Counselling Competition on the 3rd and 4th of March 2023.
The team comprising Raj Chodankar and Esha Ghodekar from V. M. Salgaocar College of Law, Miramar, emerged victorious at the National Client Counselling Competition. The team secured the highest score in all the rounds of the competition, which tested their skills in legal consultation and client representation.
The awards were presented by former Supreme Court Judge – Ramayyagari Subhash Reddy. The winning team received the top honours and was felicitated for their exceptional performance.
The distinguished panel of judges for the competition included Additional Government Pleader – Kalyan Rao, Law Secretary of Telangana State – N Narasimha Rao, Government Pleader – Dr Vijayalakshmi, Adv. Lalita Reddy, Senior Advocate P. B. Vijay Kumar, Senior Advocate Ashok Ram Kumar, and several other legal luminaries.
The success at Justitia 2023 is a testament to the outstanding legal talent of V. M. Salgaocar College of Law. The event witnessed the enthusiastic participation of law students from across the country.
Comment